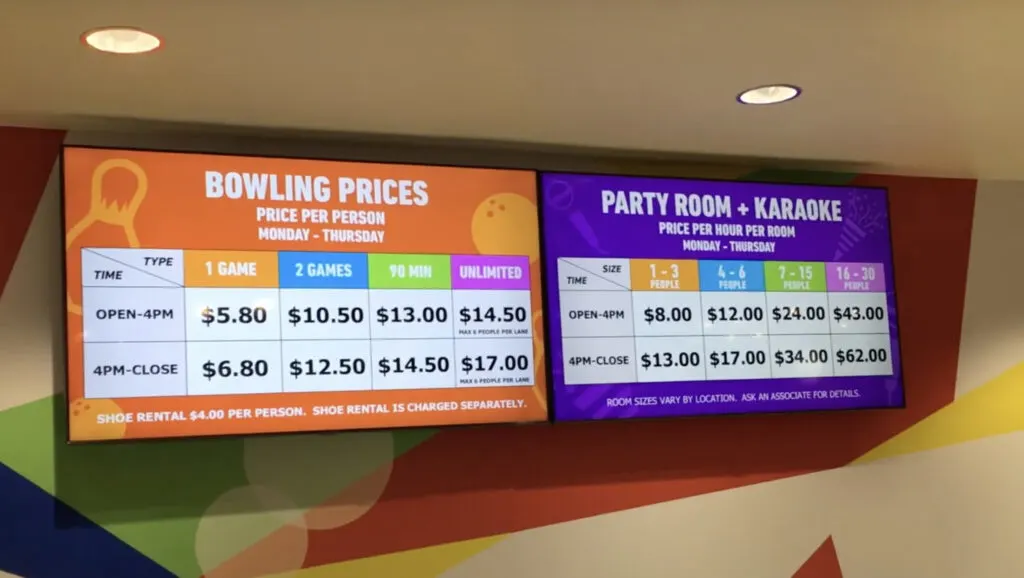 Round1 is a bowling and amusement center that's got people all over the U.S. raving! From bowling, food, private karaoke rooms, ping pong, video game arcades (exclusive games imported from Japan), and more, it's got everything you need for a fantastic time!
If you've decided that you want to go to Round 1 bowling with your family, friends, or co-workers, one of the most important things to sort out is how much it will cost you. By the end of this article, you'll know how much it costs to bowl at Round1 Bowling & Amusement, how to save money on your visit, and more!
Round1 Bowling Prices
Round1 offers two distinct bowling experiences: traditional bowling and Spark bowling. Traditional bowling costs $5.80 per person per game, with prices varying by location. Spark bowling costs $45 per lane for an hour or $50 for two hours, subject to location-specific pricing.
Key Takeaways
Multi-Entertainment Facility: Round1 is located in various shopping malls across the United States, offering a range of activities for the whole family. The facility is most crowded on Friday, Saturday, and Sunday evenings.
Round1 Bowling Prices: Traditional bowling is available, priced around $5.80 per game, and Spark Bowling costs $45 per hour per lane. Costs can vary by location, influenced by factors like the city and square footage of the store.
Membership Savings: Round1 offers memberships to help guests save on games and activities. An All-You-Can-Play deal offers unlimited bowling and other activities at a discounted weekday rate.
Keep reading to learn more about how the whole family can enjoy the activities offered at Round1.
Traditional Bowling
| | | | | |
| --- | --- | --- | --- | --- |
| Time | 1 Game | 2 Games | 3 Games | Unlimited |
| Open – 4PM | $5.80 | $10.50 | $13.00 | $14.50 |
| 4 PM – Close | $6.80 | $12.50 | $14.50 | $17.00 |
Round 1 prices shown are charged per person. Bowling shoe rental is an additional $4.00 per person. There is a maximum of 6 people allowed per lane when you purchase unlimited bowling.

If you want to bowl in a classic manner, as you would at your local bowling alley, you'll choose the traditional bowling. Standard bowling at Round 1 costs about $5.80 per person per game, though Round 1 bowling prices do vary by location.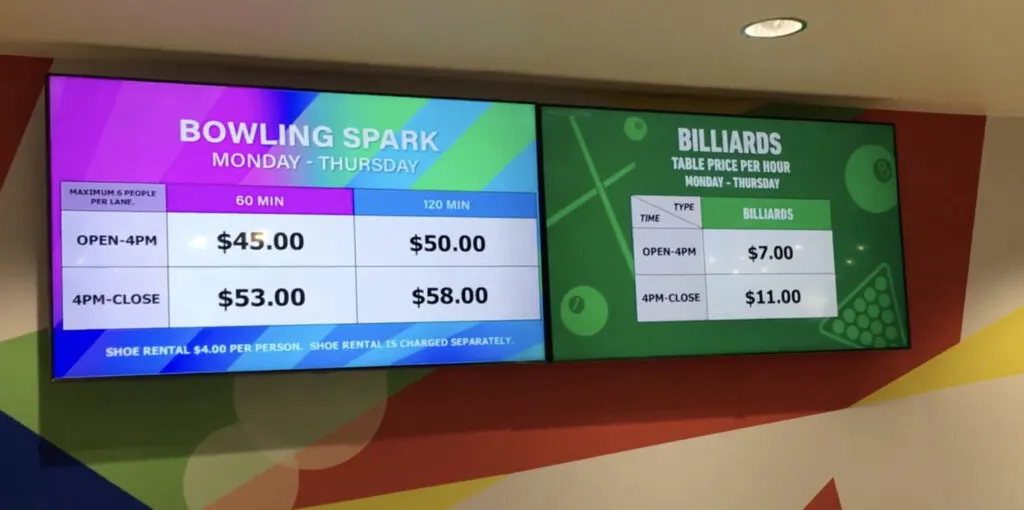 Spark Bowling
| | | |
| --- | --- | --- |
| Maximum 6 People Per Lane | 60 Minutes | 120 Minutes |
| Open – 4PM | $45.00 | $50.00 |
| 4PM – Close | $53.00 | $58.00 |
Shoe rental is charged separately at $4.00 per person.
Spark Experience Full Lane
Spark Bowling is a new and innovative type of bowling offered by Round 1. It incorporates exciting visuals and interactive scoring sequences that take any regular game of bowling to the next level. Sprak bowling is a step up from traditional Cosmic bowling.
Party Room + Private Room Karaoke
| | | | | |
| --- | --- | --- | --- | --- |
| Time | 1-3 People | 4-6 People | 7-15 People | 16-30 People |
| Open – 4PM | $8.00 | $12.00 | $24.00 | $43.00 |
| 4PM – Close | $13.00 | $17.00 | $34.00 | $62.00 |
Room rentals are priced per hour. Room sizes vary by Round1 location. If you need to reserve space for more than 30 people, I recommend calling ahead to provide the facility advance notice.
my 19th birthday party vlog at round1!! | round1 claw machines + karaoke
Billiards
| | |
| --- | --- |
| Time | Billiards |
| Open – 4PM | $7.00 |
| 4PM – Close | $11.00 |
Table rentals are priced per hour.
Fun Games with @irisandfamily2984 | Billiards | Round1@SunvalleyMall | Concord, California
Why Do Bowling Prices Vary per Location?
Round1 prices may vary by location due to the overall cost of running a specific location. Operating a Round1 in a big city could be more expensive compared to a smaller town. So, if you live in or near California, your local Round1 may charge relatively steep prices compared to a location in Kentucky.
Also, the time and day you decide to go to Round1 can dramatically affect the price you'll pay to bowl. Prices will almost always be higher on the weekend or around a holiday when more families will be out and looking to celebrate.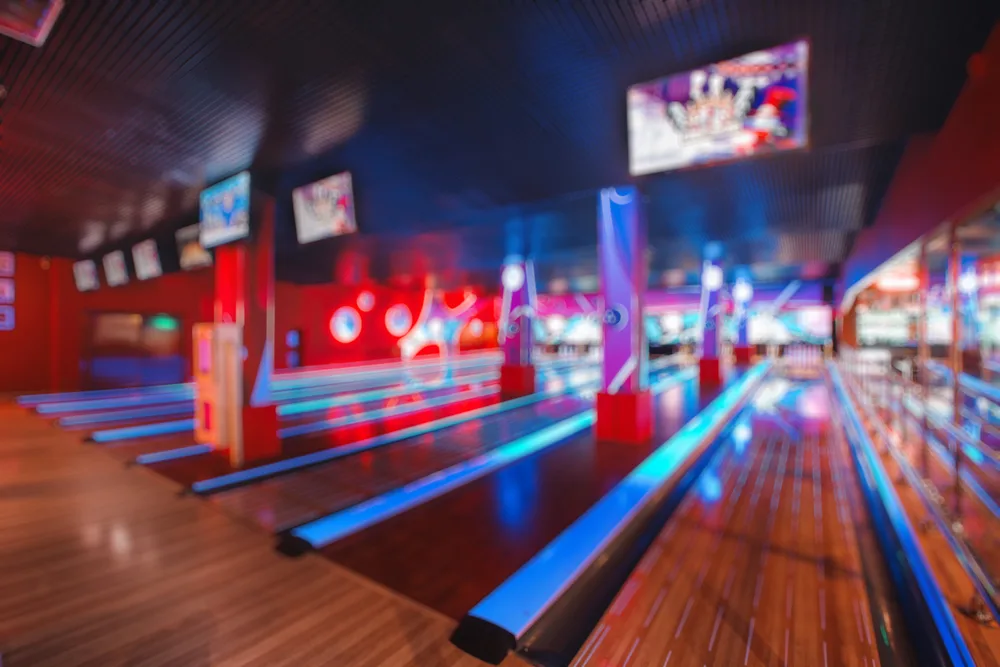 How to Find Out the Exact Price to Bowl at Round1
Price variation can make it difficult to know exactly how much you'll pay for a Round1 bowling session. Luckily, you've got a few options to get exact pricing or prepare for any price hikes:
Visit your nearest location or click here, enter your city, and choose your activities. For example, the closest Round 1 near me is in the Cumberland Mall in Atlanta, Georgia.
Call the Round1 location you're interested in visiting to ask about bowling prices. The front desk should be able to give you an accurate estimate of your costs.
Go online and book your party. Before you make the decision to book, you will be provided with the prices for the specific location you've got in mind.
Bring extra money when visiting Round 1 to cover unexpected costs. If you think you might spend $50, consider taking $100 to be ready for any price changes with your game purchase or other offerings.
Round1 Bowling Center & Amusement Locations
Atlanta Cumberland Mall

2860 Cumberland Mall SE, Atlanta, GA 30339, USA
(404) 254-6060
Mon-Sun 10 AM to 2 AM

Louisville Jefferson Mall

4801 Outer Loop, Louisville, KY 40219, USA
(502) 371-7878
Mon-Sun 10 AM to 2 AM

Greensboro Four Seasons Town Centre

410 Four Seasons Town Centre, Suite 125 Greensboro NC 27407
(336) 645-5887
Mon-Sun 10 AM to 2 AM

Beavercreek Fairfield Commons

2727 Fairfield Commons, Beavercreek, OH 45431, USA
(937) 986-1696
Mon-Sun 10 AM to 2 AM

Aurora Fox Valley Mall

2480 Fox Valley Center Rd, Aurora, IL 60504, USA
(331) 208-9270
Mon-Sun 10 AM to 2 AM

Grapevine Mall

3000 Grapevine Mills Pkwy, Grapevine, TX 76051, USA
(817) 873-7981
Mon-Sun 10 AM to 2 AM

North Riverside Park Mall

7503 W Cermak Rd, North Riverside, IL 60546, USA
(708) 762-3113
Mon-Sun 10 AM to 1 AM

Arlington Parks

3811 S Cooper St, Arlington, TX 76015, USA
(817) 855-4941
Mon-Sun 10 AM to 2 AM

Gurnee Mills – Coming Soon

6170 W Grand Ave, Gurnee, IL 60031

Oklahoma City Quail Springs Mall

2501 W Memorial Rd, Oklahoma City, OK 73134, USA
(405) 896-9515
Mon-Sun 10 AM to 2 AM

Mentor Great Lakes Mall

7850 Mentor Ave, Mentor, OH 44060, USA
(440) 701-6799
Mon-Sun 10 AM to 2 AM

Pembroke Pines Pembroke Lakes Mall

12055 Pines Blvd, Pembroke Pines, FL 33026, USA
(754) 216-7404
Mon-Sun 10 AM to 2 AM

Woodbridge Potomac Mills

2700 Potomac Mills Cir, Woodbridge, VA 22192, USA
(571) 554-8040
Mon-Sun 10 AM to 2 AM

Wichita (Towne East Square)

7700 E Kellogg Dr, Wichita, KS 67207, USA
(316) 500-2909
Mon-Sun 10 AM to 2 AM

Greendale (Southridge Mall)

5200 S 76th St, Greendale, WI 53129, USA
(414) 409-6781
Mon-Sun 10 AM to 2 AM

Auburn Hills (Great Lakes Crossing)

4220 Baldwin Rd, Auburn Hills, MI 48326, USA
(248) 464-6492
Mon-Sun 10 AM to 2 AM

(Millcreek Mall)

5800 Peach St, Erie, PA 16509, USA
(814) 813-1730
Mon-Sun 10 AM to 2 AM

Towson (Towson Town Center)

825 Dulaney Valley Rd, Towson, MD 21204, USA
(443) 846-0345
Mon-Sun 10 AM to 2 AM

San Antonio (North Star Mall)

7400 San Pedro Ave, San Antonio, TX 78216, USA
210-448-2030
Mon-Sun 10 AM to 2 AM

Lincoln (Gateway Mall)

6100 O St, Lincoln, NE 68505, USA
(402) 480-6336

Mon-Thurs 11 AM to 10 PM
Fri-Sun 10 AM to 12 AM

Lancaster (Park City Center)

200 Park City Center, Lancaster, PA 17601, USA
(717) 803-8980
Mon-Sun 10 AM to 2 AM

Exton (Exton Square Mall)

172 Exton Square Pkwy, Exton, PA 19341, USA
(484) 252-2819
Mon-Sun 10 AM to 2 AM

Deptford Township (Deptford Mall)

1750 Deptford Center Rd, Deptford Township, NJ 08096, USA
(856) 879-9070
Mon-Sun 10 AM to 2 AM

Philadelphia (Fashion District)

1001 Market St, Philadelphia, PA 19107, USA
(267) 857-0007
Mon-Sun 10 AM to 2 AM

Middletown (Crystal Run Mall)

1 Galleria Dr, Middletown, NY 10941, USA
(845) 378-1100
Mon-Sun 10 AM to 2 AM

Hicksville (Broadway Common)

358 N Broadway Mall, Hicksville, NY 11801, USA
(516) 595-2080

Mon-Thurs 10 AM to 12 AM
Fri-Sat 10 AM to 1 AM
Sun 10 AM to 12 AM

Danbury / Coming Soon (Danbury Fair) Coming Soon

7 Backus Ave, Danbury, CT 06810

Holyoke (Holyoke Mall)

50 Holyoke St, Holyoke, MA 01040, USA
(413) 409-5090
Mon-Sun 10 AM to 2 AM

Littleton (Southwest Plaza)

8501 W Bowles Ave, Littleton, CO 80123, USA
720-643-2746
Mon-Sun 10 AM to 2 AM

Albuquerque (Coronado Center)

6600 Menaul Blvd NE, Albuquerque, NM 87110, USA
(505) 510-4988
Mon-Sun 10 AM to 2 AM

South Portland (Maine Mall)

364 Maine Mall Rd, South Portland, ME 4106, USA
(207) 466-1200
Mon-Sun 10 AM to 2 AM

Tucson (Park Place Mall)

5950 E Broadway Blvd, Tucson, AZ 85711, USA
(520) 485-4288
Mon-Sun 10 AM to 2 AM

Glendale / Coming Soon (Arrowhead Towne Center)

7700 W Arrowhead Towne Center, Glendale, AZ 85308

Sandy (Shops at South Town)

10450 S State St, Sandy, UT 84070, USA
(385) 434-1300
Mon-Sun 10 AM to 2 AM

Las Vegas / Coming Soon (Las Vegas South Premium Outlets)

7400 Las Vegas Blvd S, Las Vegas, NV 89123

Las Vegas (Meadows Mall)

4300 Meadows Ln, Las Vegas, NV 89107, USA
(702) 956-6333
Mon-Sun 10 AM to 2 AM

Temecula (Temecula Promenade)

40710 Winchester Rd, Temecula, CA 92591, USA
(951) 225-6133
Mon-Sun 10 AM to 2 AM

Moreno Valley (Moreno Valley Mall)

22500 Town Cir, Moreno Valley, CA 92553, USA
(951) 697-0260
Mon-Sun 10 AM to 2 AM

National City / Coming Soon (Westfield Plaza Bonita)

3030 Plaza Bonita Rd Ste 2075, National City, CA 91950

Mission Viejo / Coming Soon (The Shops at Mission Viejo)

555 The, Shops At Mission Viejo, Mission Viejo, CA 92691

Santa Ana (Main Place Mall)

2800 N Main St, Santa Ana, CA 92705, USA
(714) 619-6840
Mon-Sun 10 AM to 2 AM

City of Industry (Puente Hills Mall)

1600 S Azusa Ave, City of Industry, CA 91748, USA
(626) 964-5356
Mon-Sun 10 AM to 2 AM

Lakewood (Lakewood Center Mall)

401 Lakewood Ctr Mall, Lakewood, CA 90712, USA
(562) 408-2937

Mon-Thurs 10 AM to 12 AM
Fri-Sat 10 AM to 1 AM
Sun 10 AM to 12 AM

Burbank (Burbank Town Center)

201 E Magnolia Blvd, Burbank, CA 91502, USA
(818) 333-5859
Mon-Sun 10 AM to 2 AM

Reno (Meadowood Mall)

5400 Meadowood Mall Cir, Reno, NV 89502, USA
(775) 393-1244
Mon-Sun 10 AM to 2 AM

Roseville (Westfield Galleria at Roseville)

1191 Galleria Blvd., Suite 1210, Roseville, CA 95678, USA
(916) 751-3181
Mon-Sun 10 AM to 2 AM

Salinas (Northridge Mall)

1600 Northridge Mall #200, Salinas, CA 93906, USA
(831) 287-3848
Mon-Sun 10 AM to 2 AM

San Jose (Eastridge Shopping Center)

2200 Eastridge Lp, San Jose, CA 95122, USA
(408) 513-8290
Mon-Sun 10 AM to 2 AM

Concord (Sunvalley Mall)

185 Sunvalley Mall, Concord, CA 94520, USA
(925) 826-1860
Mon-Sun 10 AM to 2 AM

Hayward (Southland Mall)

551 Southland Mall Dr, Hayward, CA 94545, USA
(510) 300-6677
Mon-Sun 12 PM to 2 AM

San Francisco / Coming Soon (Stonestown Galleria)

3251 20th Ave, San Francisco, CA 94132

Vancouver (Vancouver Mall)

8800 NE Vancouver Mall Dr., Suite 100, Vancouver, WA 98662, USA
(564) 888-2515
Mon-Sun 10 AM to 2 AM

Eugene (Valley River Center)

600 Valley River Ctr, Eugene, OR 97401, USA
(541) 600-4840
Mon-Sun 10 AM to 2 AM

Puyallup (South Hill Mall)

3500 S Meridian Unit 494, Puyallup, WA 98373, USA
(253)446-5678
Mon-Sun 10 AM to 2 AM

Tukwila (Westfield Southcenter)

2351 Southcenter Mall, Tukwila, WA 98188, USA
(206) 243-2787
Mon-Sun 10 AM to 2 AM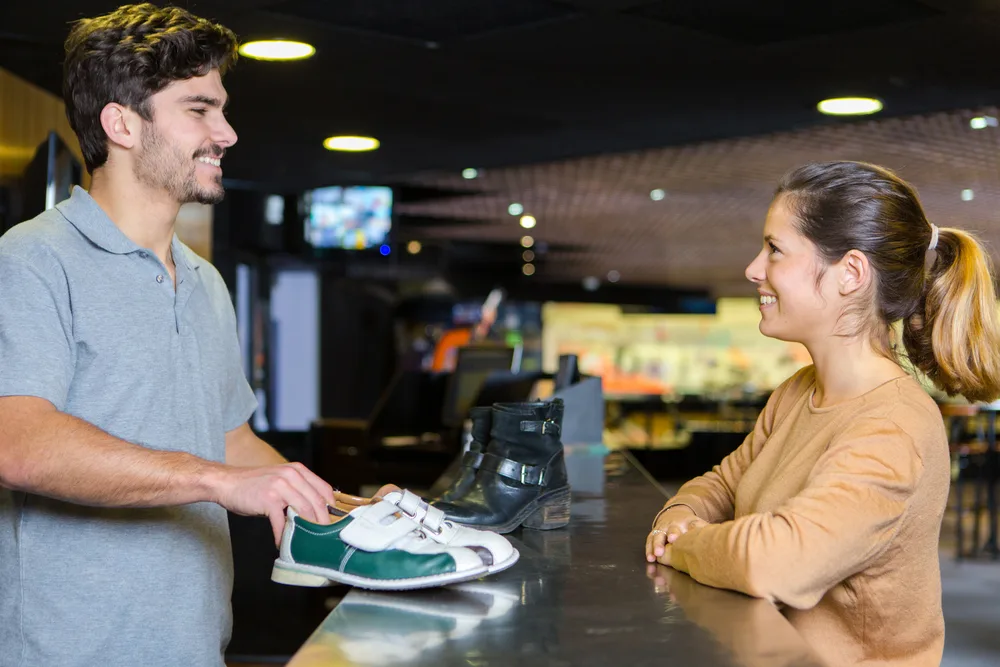 The Round1 Membership
Round1 has a membership program that can save you money on bowling and other Round1 activities. It costs $5 plus tax and has several levels: Digital, Digital Silver, Digital Gold, and Digital Platinum, which gives you discounts on every game you play. The more you visit, the more you save.
To find out how to get started with a Round1 membership and learn how much you could possibly save, check out this graphic with more information. It could bring your bowling costs down dramatically.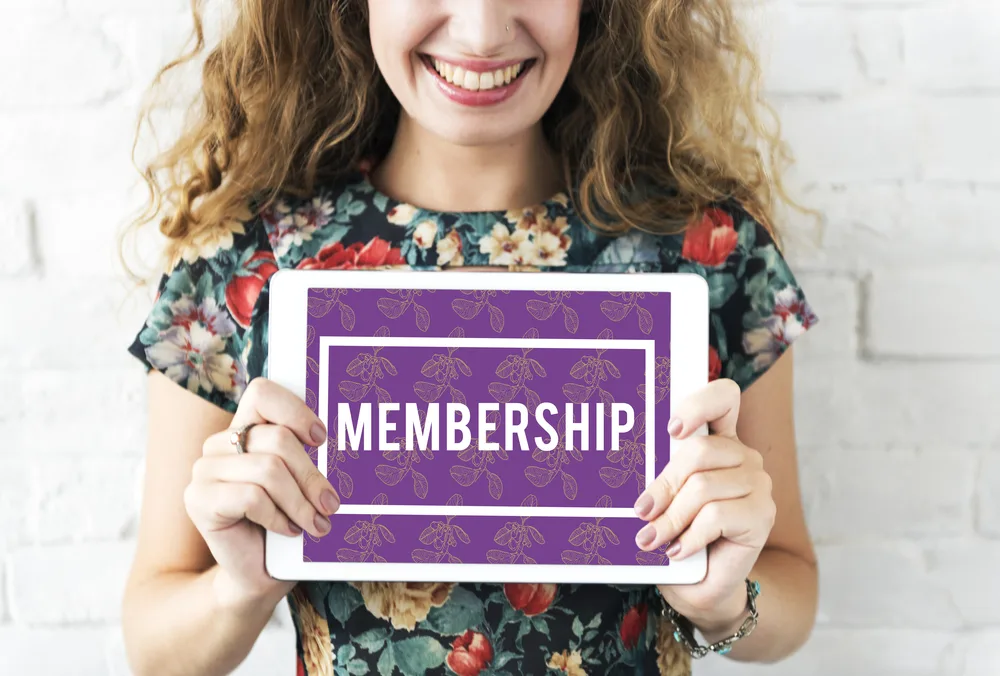 All-You-Can-Play Weekday Fun Deal
In addition to the membership, Round1 also offers an All-You-Can-Play Weekday Fun Deal. This deal allows you to play as many games of bowling, billiards, and karaoke as you want for $14.99 per person on weekdays before 5PM (pricing and times vary by location).
If your Round1 location offers this deal and you plan on playing multiple games, it could end up being a much better deal than paying for each game individually.
my 19th birthday party vlog at round1!! | round1 claw machines + karaoke
Other Ways to Save Money on a Bowling Outing
Want to learn more ways to save on your bowling outing at Round1? This section will share with you some easy ways to do just that!
Round up a group of friends and split the cost of bowling and food with them.
Limit the number of games you play if money is tight.
Ask the staff at the front desk about promotions and deals that you can take advantage of.
Eat before you get to Round1. You cannot bring outside food and drinks into the building, so you should eat beforehand. The food there can be expensive. For example, a 5-piece chicken tender order is $8.99, and it's an extra $5.50 if you want the combo meal that includes french fries and a fountain drink.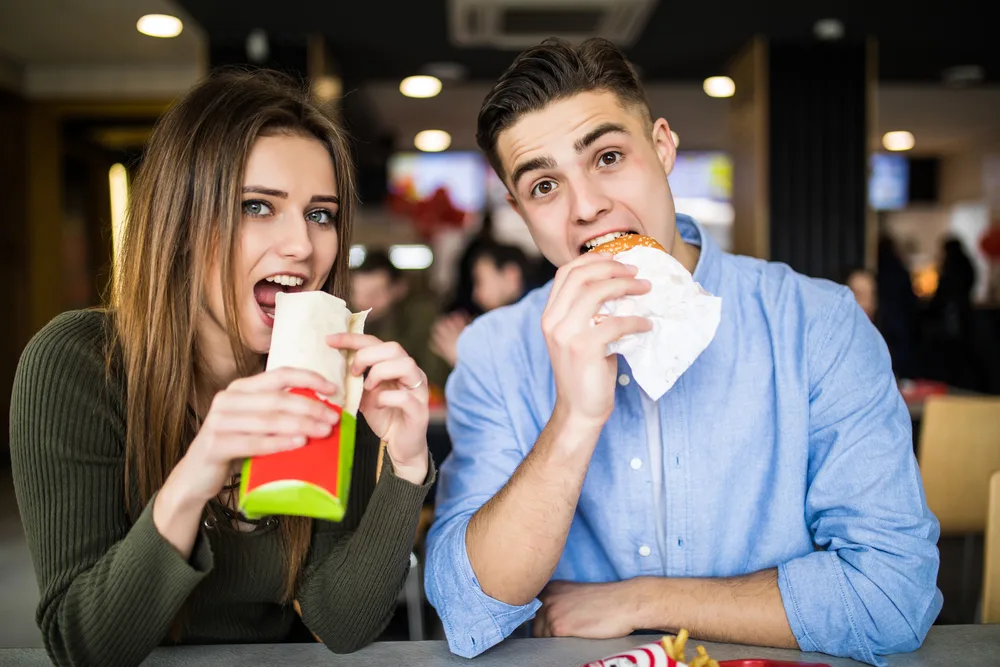 How Many Hours Should You Purchase for Spark Bowling?
If you're trying to sort out how many hours of Spark bowling you need to purchase, it's important to know how long is a game of bowling. A typical game takes about 20 minutes for 2 people, though it can vary depending on each player's bowling speed and (more importantly) how many people are playing.
But based on the average, if you and one other person want to bowl and pay for one hour of play, you could finish about 3 games. For a larger party of 6, it could take an hour to finish one game.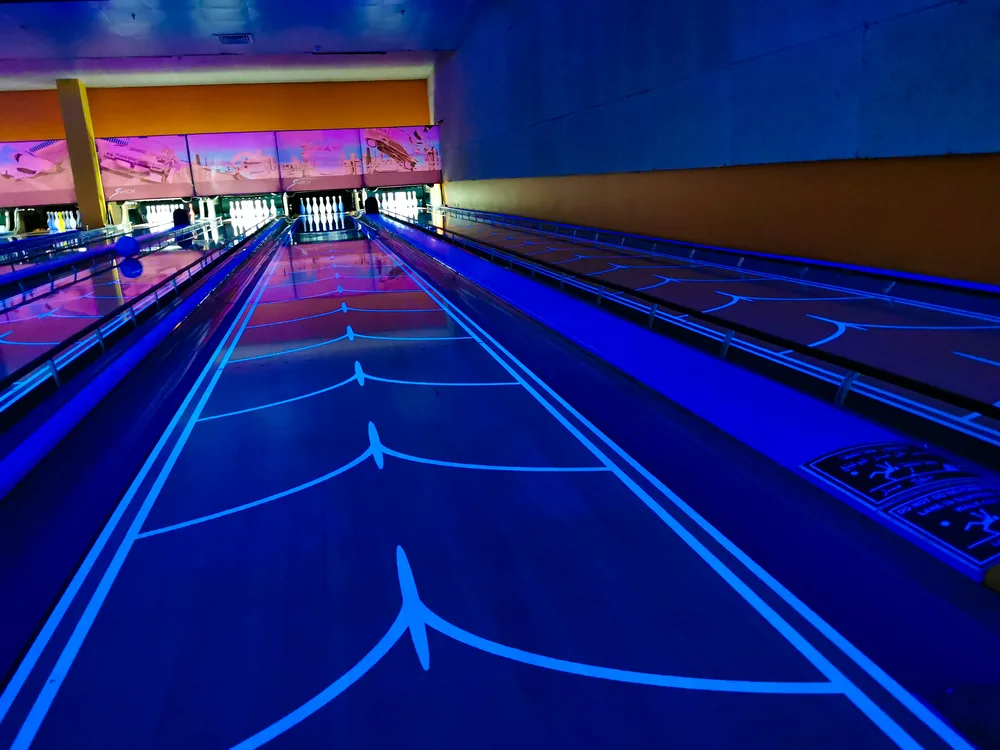 Does Round1 Accept Cash?
Yes, Round1 accepts cash as a payment method at all locations. In addition to cash, they also accept major debit and credit cards and digital payment options like Apple Pay, Samsung Pay, and Google Pay. If you're considering using a different form of payment, such as a check, Chime, or gift card, call the specific Round1 location ahead of time to confirm if your preferred payment method is accepted. You don't want to show up and not be able to pay.

How to Prepare for Your Bowling Outing at Round1
If you've decided that you want to go through with a bowling outing at Round1, that's great! But before you go, there are a few things you should do to prepare:
Call ahead and make sure your local Round1 has bowling lanes available.
Confirm who is coming with you and if a shoe rental is needed.
Bring cash or cards for payment, as well as extra money.
Decide all the activities you'll want to play.
Bring your ID so that Round1 staff members can verify your age.
Wear comfortable clothes and shoes that are suitable for bowling. Customers won't be let in if they're not wearing a shirt or shoes. Also, ensure that your clothes are neither too tight nor too baggy.
Look over the House Rules beforehand to ensure that you won't accidentally break any of them.
How to Roll Your First Strike
If you've never gotten a strike before, you'll be glad to know that you can improve your odds of rolling one (or more) with a few tips and some practice.
Here are a few beginner tips to start with:
Make sure you're holding the bowling ball correctly. Your fingers should fit comfortably in the holes, and your thumb shouldn't be too tight or loose. If you've got a bad fit, choose a different ball.
Aim for the pocket. For right-handed bowlers, it's the spot between pins 1 and 3, and for left-handed bowlers, it's the spot between pins 1 and 2. Hitting the pocket will set off a domino-type reaction, drastically increasing your chances of knocking down all the pins.
Keep your arm straight as you swing, and release the ball at about eye level for a smooth release. If you release it too early or too late, it could veer off course and go in the gutter.
Follow through with your throw to help your ball go in the intended direction.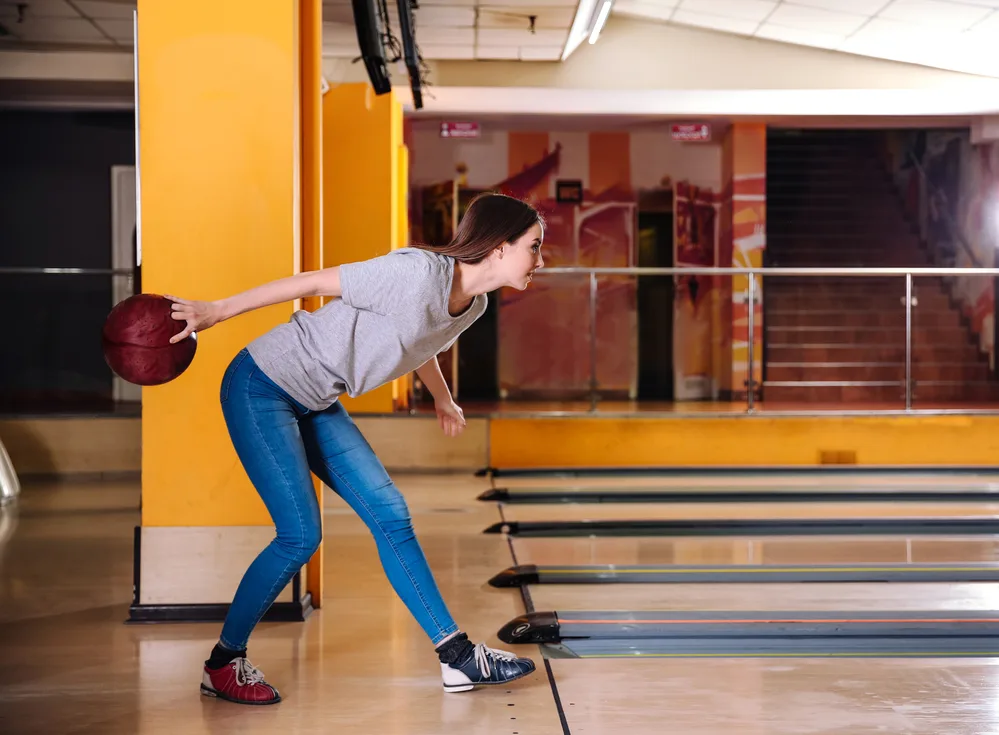 How Much Does It Cost to Play in Round 1?
The cost to play at Round1 varies depending on the activities and location. For bowling, standard games cost about $5.80 per person per game, while Spark bowling is priced at $45 per hour per lane or $50 for 2 hours per lane. There are also membership options starting at $5 plus tax that offer game discounts and an All-You-Can-Play Weekday Fun Deal for $14.99 per person on weekdays before 5PM for unlimited bowling, billiards, and karaoke. Prices can be higher on weekends and holidays. It's advisable to check the specific pricing at your local Round1 location or call ahead for detailed information.
Is Round 1 a Japanese Arcade?
Yes, Round1 originated in Japan and is known for its multi-entertainment facilities, including various arcade games. It was established in Japan in 1980 as a roller skate facility with arcade games and evolved into the first Round One store in 1993. The company has since expanded globally, including numerous locations in the United States, offering a mix of entertainment options like bowling, arcade games, billiards, and more. Including exclusive arcade machines from Japan is a unique feature that makes Round1 a popular entertainment destination.
How Do I Check My Round 1 Card Balance?
You can check your Round1 card balance by asking any authorized employee at a Round1 Facility or by using an on-site kiosk station. Additionally, you can check your Redemption Points balance through the Round1 Application or by logging into your account page online. These tools allow you to easily monitor the points available for redeeming prizes at any Round1 location.
Does Round 1 Have Japanese Karaoke?
Yes, Round1 offers Japanese karaoke at several of its locations. You can enjoy this entertainment option at specific Round1 centers in California, Colorado, Georgia, Illinois, North Carolina, New York, Ohio, Pennsylvania, Texas, and Washington. Each of these facilities provides a stage for you to showcase your singing talents and enjoy a fun musical experience with a selection of Japanese songs.
Does Round 1 Accept PayPal?
No, Round1 does not accept PayPal as a payment method. However, they accept various other payment forms, including cash, credit cards, and digital payment options like Apple Pay, Samsung Pay, and Google Pay. These options provide flexibility for customers looking to enjoy the entertainment and amenities offered at Round1 Bowling & Amusement centers.
How Much Does Round 1 Pay Its Employees?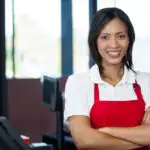 At Round 1, pay rates vary depending on the job role and location. Associates earn between $13.00 and $17.00 per hour, Mechanic Managers make $17.00 to $22.00, General Managers (AGM) are paid $24.00 to $28.00, and Department Managers (SV) earn $21.00 to $28.00 per hour. Employees enjoy free games, food discounts, free beverages, and free bowling, pool, and karaoke sessions.
Can I Reserve a Karaoke Room at Round 1?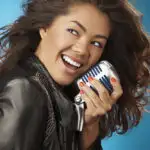 Yes, you can easily reserve a karaoke room at Round 1. The entertainment center allows guests to book karaoke rooms in advance through a phone call or their online booking system, ensuring you have a reserved spot without waiting; it is incredibly convenient for those visiting from out of town or state.
Is Laser Tag Available at Round 1?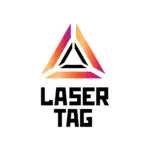 Currently, laser tag is not available at Round 1 entertainment centers. While they offer a wide range of entertainment options, laser tag isn't one of them. However, with numerous locations across different regions, offerings can vary, so it's always a good idea to check the specific amenities and activities available at your nearest Round 1 location.
Related Articles
So, there you have it – all you need to know about the price of bowling at Round1, several ways to save money, and tips to bowl as well.
Whether you go with standard bowling, Spo-Cha (timed games), arcade games, darts, ping pong, or billiards, or try out the new Spark Bowling, Round1 has plenty of options for a memorable time with friends and family. Happy bowling!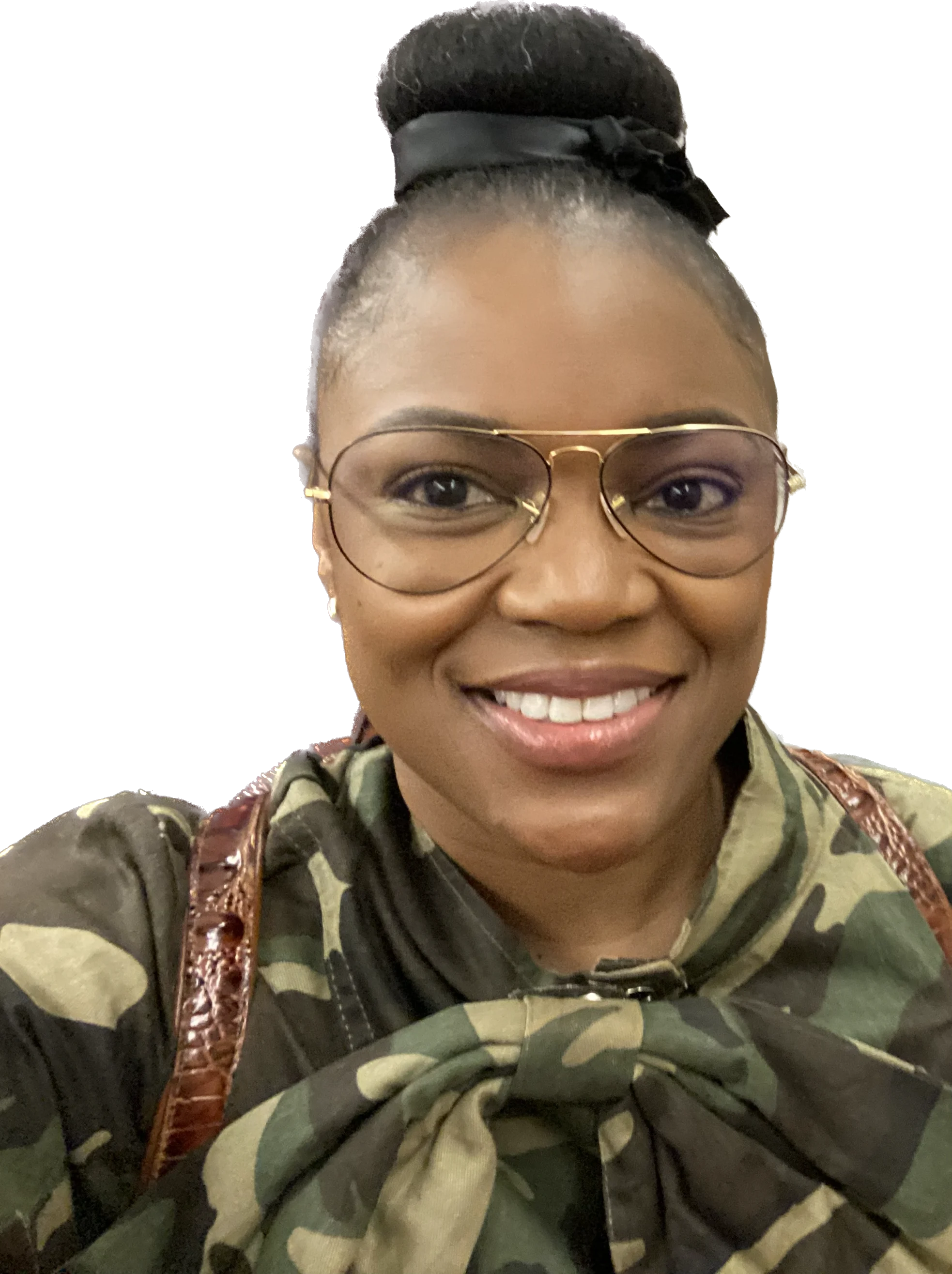 Kira Byrd, a Certified Fraud Examiner, holds a B.S. in Accounting from the University of Alabama at Birmingham. With a passion for bowling from her childhood, Kira has poured her expertise and personal experiences into creating and nurturing Bowling For Beginners. Kira's mission is to meet new bowlers where they are and guide them toward consistently achieving higher scores. With a focus on skill development and strategic techniques, she empowers readers to take control of their game and unlock their true potential.
Bowling For Beginners embodies strict editorial integrity, ensuring reliable and unbiased information. Kira's commitment to delivering valuable insights and practical strategies is reflected in every article. Here's an explanation of our editorial policy and how we get money.