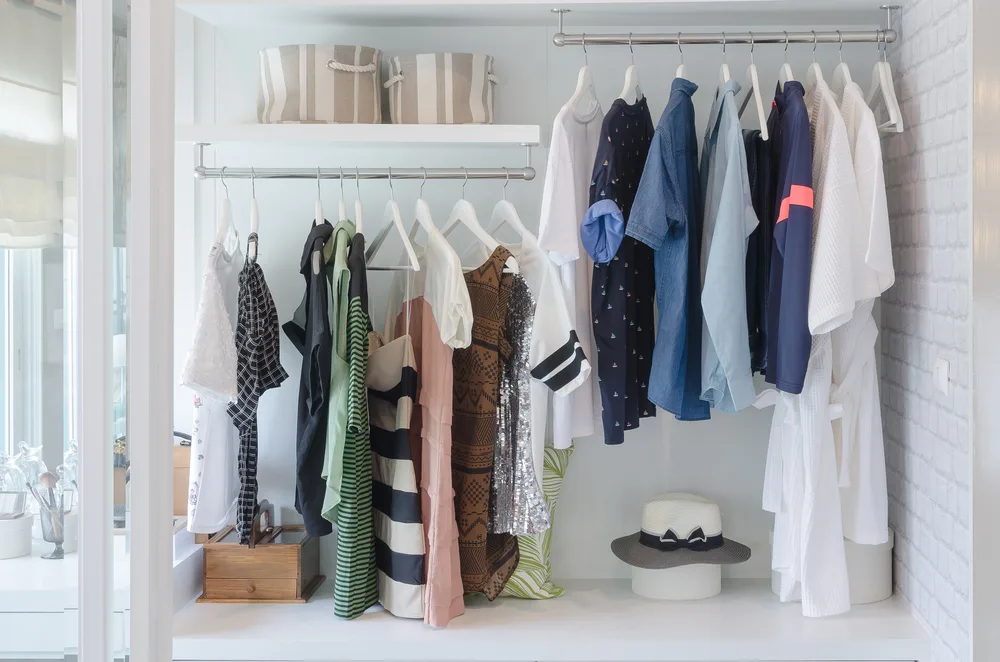 So, you've got a bowling outing lined up. Chances are you're pumped at the thought of rolling a few with friends and family or your special someone. But what should you wear? We can help with that!
Here are some ideas around bowling outfits to get you started.
Bowling Outfit Ideas for Men
For men, a bowling shirt is always a good choice. You can find these shirts in any sporting goods store. They're usually made of polyester and have a button-down collar.
Pair your bowling shirt with stretch khaki shorts
or jeans, and you'll be good to go.
If you want to up the formality of your get-up, you can wear a collared shirt
and dark stretch slacks.
When it comes to shoes, you'll want to keep it simple. Wear a comfortable pair of shoes specifically designed for bowling. Just make sure they're comfortable, so you can focus on your game and not on your aching feet (more on bowling shoes later on in this article).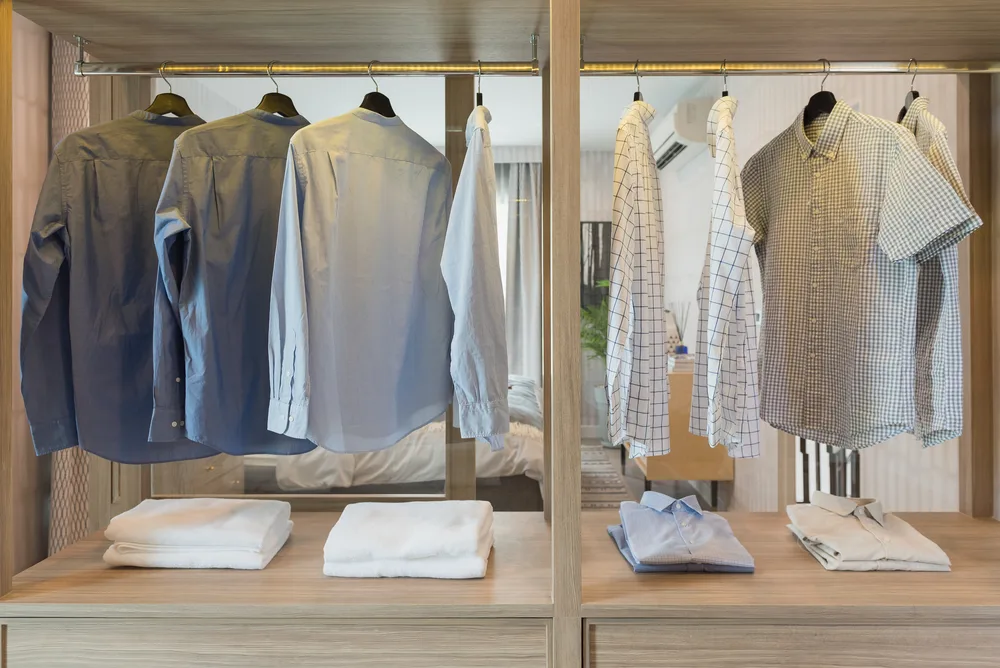 Bowling Outfit Ideas for Women
For women, a bowling shirt is also a good choice.
There are bowling shirts in a ton of styles and colors, so you shouldn't have any issues finding one that suits your personality, build, and budget.
But if you want to go a little less bowling casual, skip the bowling shirt altogether and opt instead for a chic blouse.
You could also rock a printed tunic or v-neck tank if that's more your speed. These will all make cute bowling outfits.
Pair your top with leggings,
or even a stretch skort.
And don't forget to add some fun accessories to make your outfit pop.
As we mentioned earlier, you'll need to wear bowling shoes when you play. This may have been disappointing to you, given that bowling shoes have a reputation for being fashion-backward.
But that doesn't have to be the case! There are plenty of bowling shoes in styles that range from sporty to chic. Just pick a pair you'll feel comfortable walking (and bowling) in – we'll share some options of cute bowling shoes with you later on in this article.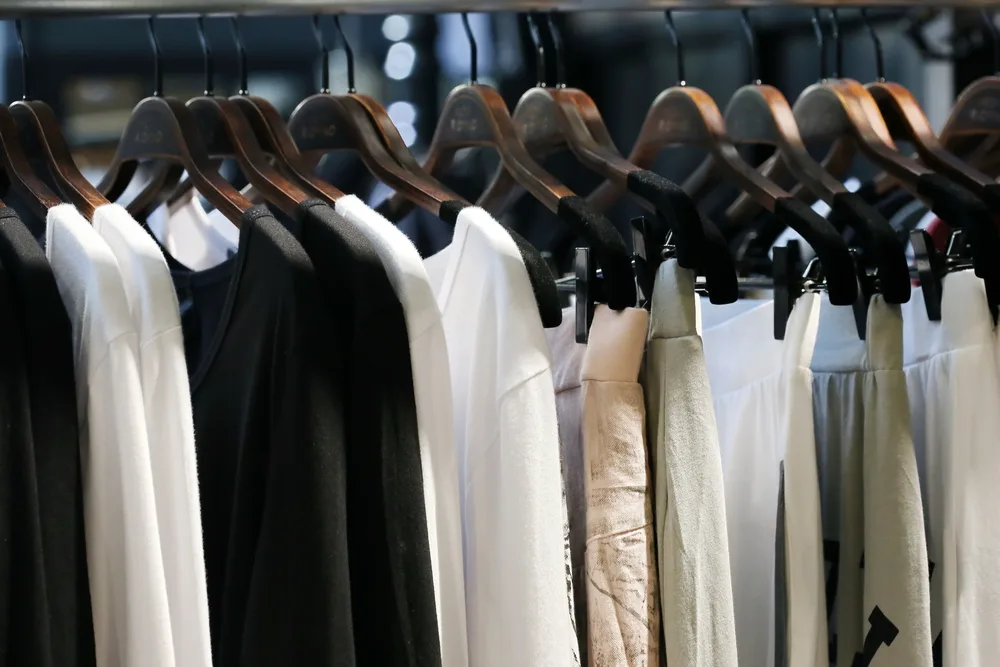 Bowling Outfit Ideas for Kids
When it comes to what kids can wear to bowling alleys, the sky's the limit on a cute bowling outfit!
For girls, you can pair a fun scooter skirt
with an athletic crew neck top
or a tunic
with sports leggings.
For boys, jogger shorts
and a polo shirt always look sharp.
And don't forget about their bowling shoes – rent some at the bowling alley or purchase some online
or at a sporting goods store. With the right outfit, your little ones will surely have a great time!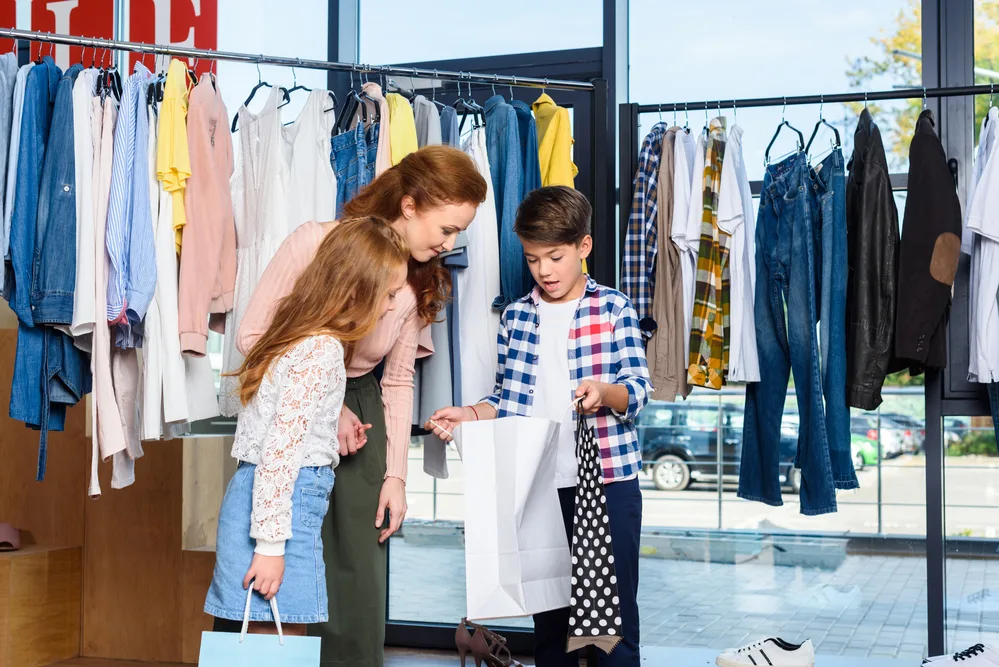 Types of Bowling Shoes to Consider
If you really want to impress on bowling alley night or bowling date, you probably don't want to wear those rental shoes.
You need a wearable pair of bowling shoes that fit well, feel comfortable, and add to your bowling outfit. Here are a few different ones to consider.
KR Strikeforce Lux Leopard Women's Bowling Shoe
These shoes have two things going for them – they are both eye-catching and comfortable. That leopard print design is to die for! And as a bonus, they feature FlexSlide technology, giving your bowling release a touch of extra smoothness.
Brunswick Ladies Envy Bowling Shoe – Are you more on the minimalist side? If so, you'll love these sleek and simple grey bowling shoes. With just a touch of color on the logo, they'll complement any outfit you choose to wear. And they're made with lightweight materials, so you'll feel light on your feet and ready to take on any opponent.
Pyramid Men's Skull Bowling Shoes – These shoes are perfect for the guy who wants to make a statement. They feature a bright green design with skulls and crossbones along the side – they're sure to turn heads when you walk into the bowling alley. They've also got microfiber soles for quick and easy break-in and some serious slide!
KR Strikeforce Flyer Mesh Men's Bowling Shoes –
For the guy who wants a more traditional look, these black and grey bowling shoes are a great choice. They have a classic design with modern details, like mesh uppers, for breathability. They're also lightweight and comfortable.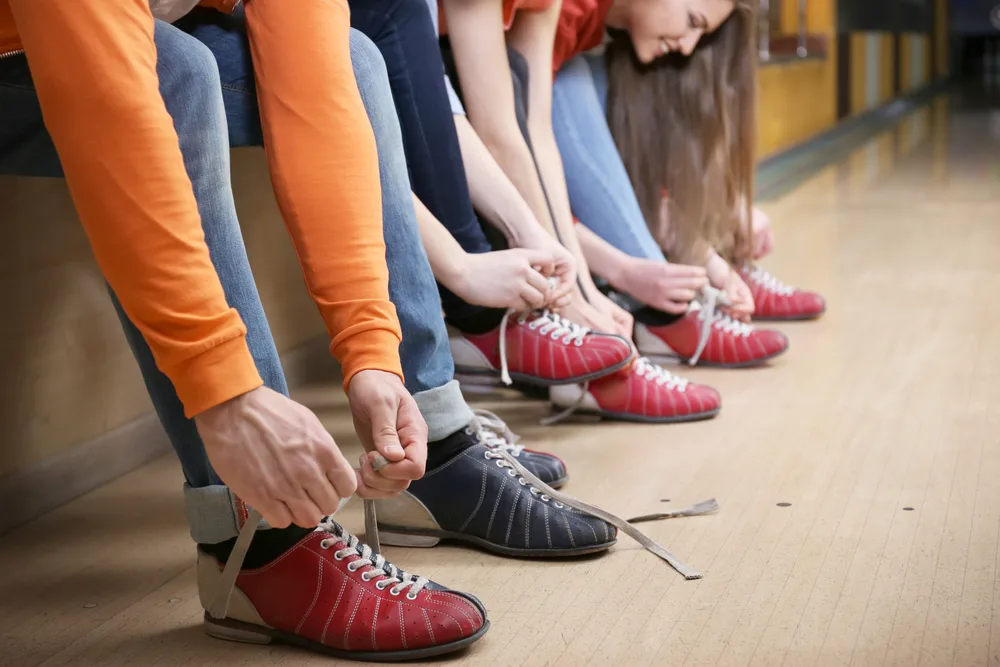 Don't Forget Your Socks!
No matter what type of bowling shoes you choose (rented or purchased), you will need to bring socks to go along with them. Bowling shoes can be a little bit stiff, so you'll want to ensure your feet are comfortable.
And if you're wearing rentals, there's the fact that many people have worn those shoes before you. Any socks you have will suffice, but you'll probably want them to match your outfit.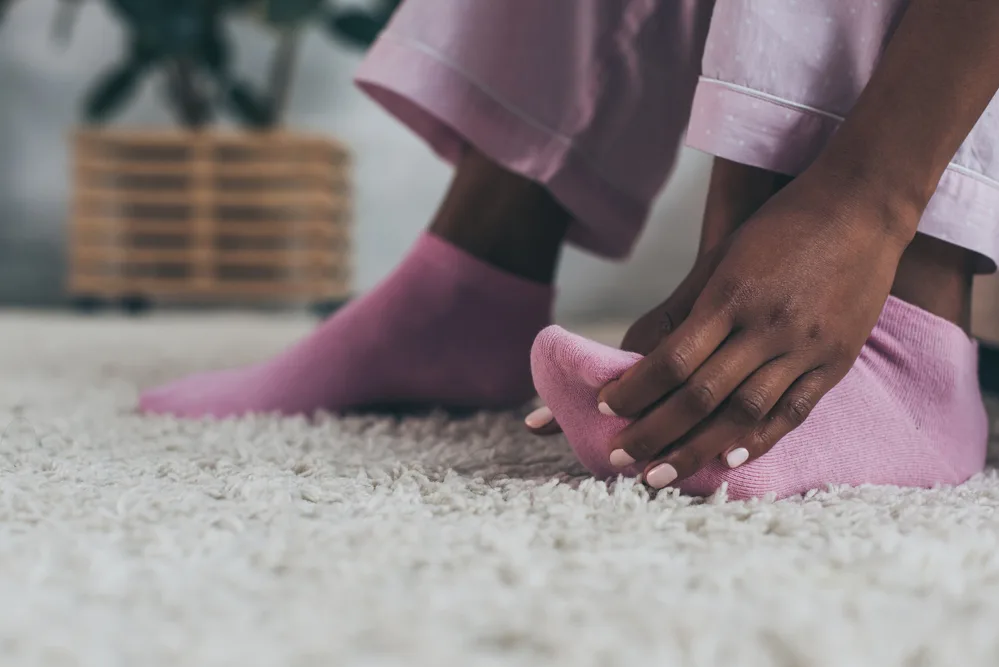 Not Every Outfit Will Work at the Bowling Alley
While there are many important factors to consider while bowling, the clothing you choose to bowl in is often overlooked.
However, your bowling clothes can actually have a significant impact on your game. Here are a few reasons why you should always dress appropriately for a game of bowling:
Loose or Baggy Clothing Can Be a Safety Hazard
Baggy clothes are frowned upon, as they can be used to conceal your identity. Also, they can get in the way as you're trying to throw your ball.
Contrarily, if you're wearing something too tight, you might not be able to move as freely. In the event you trip or slide, you may not be able to catch yourself, leading to injury.
In addition, being unable to move freely could affect your bowling form and, ultimately, your score. Your best bet is to wear something in the middle, not too loose and never restrictive. Stretch clothes work well.
Street Shoes Can Damage the Lanes
When you wear street shoes in a bowling alley, you're not only risking injury but also damaging the lanes. The soles of your shoes can pick up dirt, oil, and grime from the lanes and transfer them to other areas of the lane, impacting everyone's game.
And if it's determined that your shoes significantly damaged something in the bowling alley, you may be fined or otherwise sanctioned.
The Right Bowling Outfit Can Help You Stay Cool and Comfortable
Wearing the right bowling outfit can help you focus on your game. Contrarily, if you're wearing something too tight or itchy, you may feel distracted and uncomfortable.
The best bowling outfits are made of breathable, lightweight materials, like cotton and linen. There are also specialty fabrics that stretch and wick away sweat to keep you cool.
Whatever you choose to wear, make sure it's something you feel good in. You'll be more confident and have more fun if you're comfortable.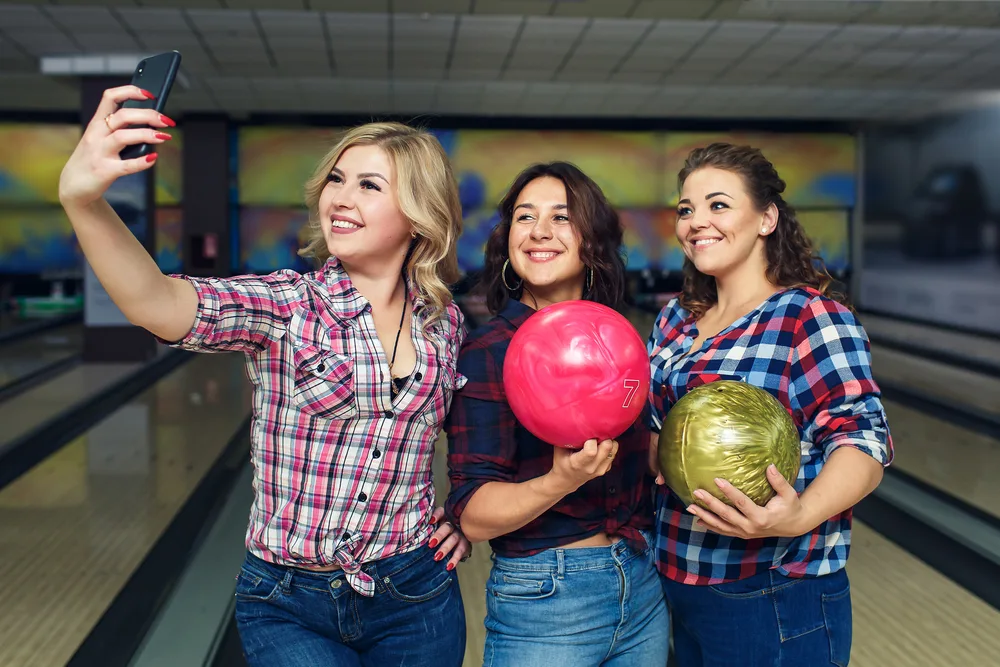 Your Bowling Outfit Can Make a Statement
Who says you can't, or shouldn't, make a statement at the bowling alley? If you want to dress up for a night out with friends, or just show off your personal style, go for it! Just remember to keep the above tips in mind to avoid any issues.
What Not to Wear to a Bowling Alley
There are a few things you should avoid wearing to the bowling alley. First, stay away from anything that's revealing or too short.
You'll be bending over a lot, and you don't want to give anyone too much of a view. Also, don't wear any clothes that have profanity or offensive language.
Related Articles
You'll be in a public place, and you want to respect the other bowlers and employees. Finally, don't wear any work boots, cowboy boots, or street shoes on the lanes. You'll damage the lanes and risk injury.
Now that you know what to wear (and what not to wear) to the bowling alley, you're ready to show your bowling style and have a great time!
Dress comfortably, show off your style, and most importantly, have fun! We hope this article has given you the inspiration you were looking for and the next bowling date!