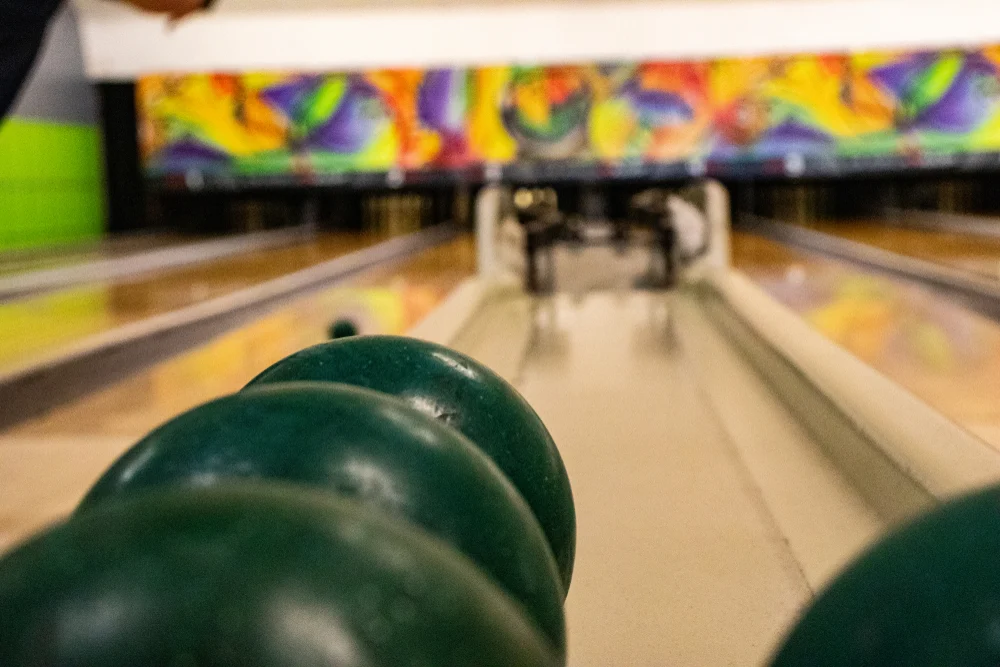 There's something about candlepin bowling that just feels nostalgic and retro. Maybe it's the small balls or the fact that the pins are cylindrical instead of triangular.
Or maybe it's because this particular type of bowling is only found in a few states in New England.
No matter what it is, candlepin bowling is a blast, and if you've ever wondered how much a candlepin bowling ball weighs, you're in luck! Keep reading to find out!
How Much Does A Candlepin Bowling Ball Weigh and Cost?
A candlepin bowling ball typically weighs in at around 2.2 to 3 pounds. Most balls designed for use in candlepin bowling alleys are made from a hard plastic material, which helps to give them some extra weight and durability. While three pounds may not seem like much, it can actually be quite challenging to bowl with a candlepin ball since they are smaller and lighter than standard bowling balls.
The cost of a candlepin bowling ball can range between $200 and $300 for a pack of four balls.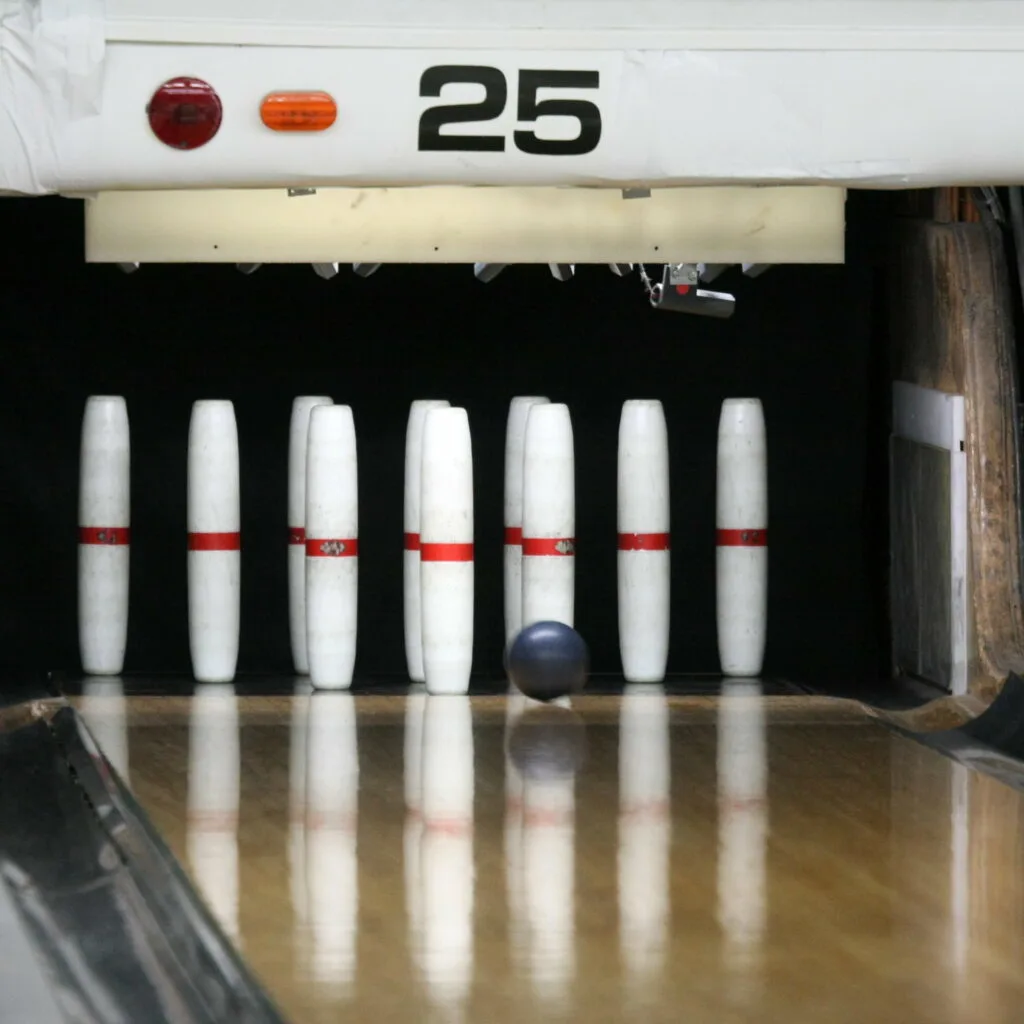 Why Is Bowling Ball Weight Important?
Bowling ball weight is important because it affects the speed and spin of the ball.
A heavier ball will travel faster and have more spin, while a lighter ball will travel slower and have less spin.
The type of bowling you are doing will determine the ideal weight for your ball. For example, in traditional ten-pin bowling, a heavier ball is typically used because it can provide more power to knock down all the pins.
On the other hand, in candlepin bowling, a lighter ball is often used because it is easier to control and allows for more accurate shots. Ultimately, it is up to the bowler to experiment with different weights to see what works best for them.
What Candlepin Ball Weight Should a Woman Use?
Unlike traditional bowling, candlepin bowling uses much smaller balls and pins, and the candlepin balls do not have finger holes. As a result, candlepin bowling can be more challenging than other types of bowling.
When choosing a ball weight, women should consider their own strength and ability. A heavier ball will be more difficult to throw, but it will also be more likely to knock down all of the pins. A lighter ball, on the other hand, will be easier to throw but may not have enough power to knock down all of the pins.
As a general rule, women should start with a 2.3 pounds candlepin bowling ball. With a little practice, they will be able to find the perfect weight for their own style of play.
What Candlepin Ball Weight Should Men Use?
When it comes to candlepin bowling, one of the most important factors is the weight of the ball. The heavier the ball, the more momentum it will have, and the more likely it is to knock down all the pins.
However, too much weight can make it difficult to control the ball, leading to inaccurate throws. As a general rule, men should use a candlepin ball that weighs between 2.3 to 3 pounds.
This provides enough weight to get a good amount of momentum while still being manageable. Of course, every bowler is different, so it may be necessary to experiment with different weights to find the perfect one for you.
What Candlepin Ball Weight Should Kids Use?
Choosing the right candlepin ball weight is essential for a child's success in bowling. The weight of the ball should be appropriate for the child's age, height, and strength.
The best way to determine the ideal weight for a child is to ask their coach or league coordinator. They will be able to offer guidance based on the child's individual needs.
Overall, they should use a 2.2 pounds candlepin bowling ball.
With the right candlepin ball weight, a child can enjoy hours of fun while developing their skills and confidence on the lane.
What Candlepin Ball Weight Should a Professional Bowler Use?
Professional bowlers must be very strategic when choosing their ball weight. The sport of candlepin bowling is unique in that the ball weight cannot exceed 3lbs, 12oz.
With that being said, the ideal weight for a professional bowler really varies based on their individual style and preferences. However, most professionals tend to use a ball weight that is between 2.4lbs, 10oz, and 3lbs.
The extra few ounces can make a big difference when it comes to knocking down pins. Professional bowlers who use a lighter ball may find that they have more control over their shots, while those who use a heavier ball may have more power behind their throws.
When Do You Need to Change Your Bowling Ball Weight?
If you are serious about improving your game, it is important to choose a ball weight that is comfortable for you to throw with consistent accuracy.
If you are struggling to control your ball or you find yourself veering off to one side, it may be time to increase the weight. On the other hand, if your ball seems to be lacking power, a lighter ball may help you to increase your speed and achieve better results.
Ultimately, the best way to determine the right bowling ball weight is to experiment until you find a weight that feels natural and gives you the results you want.
The size of the ball should be appropriate for the player's hand, and the weight should be suitable for the game being played.
If a ball is too heavy for the bowler, you might feel fatigued and sometimes experience pain in your arm, specifically the elbow, wrist, shoulder, and back.
What Are Candlepin Balls Made Of?
The small and hard candlepin bowling balls are made from a variety of materials, including plastic, wood, rubber, and composite materials. Similar to what other bowling balls are made of. The size and weight of the ball vary depending on the league and type of game being played.
Candlepin Bowling Ball Diameter
The candlepin bowling ball is the smallest type of bowling ball, with a diameter that is typically between 4.5 inches and a circumference of 14.14 inches.
Because of their small size, candlepin balls are generally easier to control than their larger counterparts. However, this does not mean that they are necessarily less challenging to bowl with.
Candlepin bowling balls often have a harder surface than other types of bowling balls, making them more difficult to hook. In addition, the small size of the ball can make it more difficult to hit the pocket, resulting in more missed shots.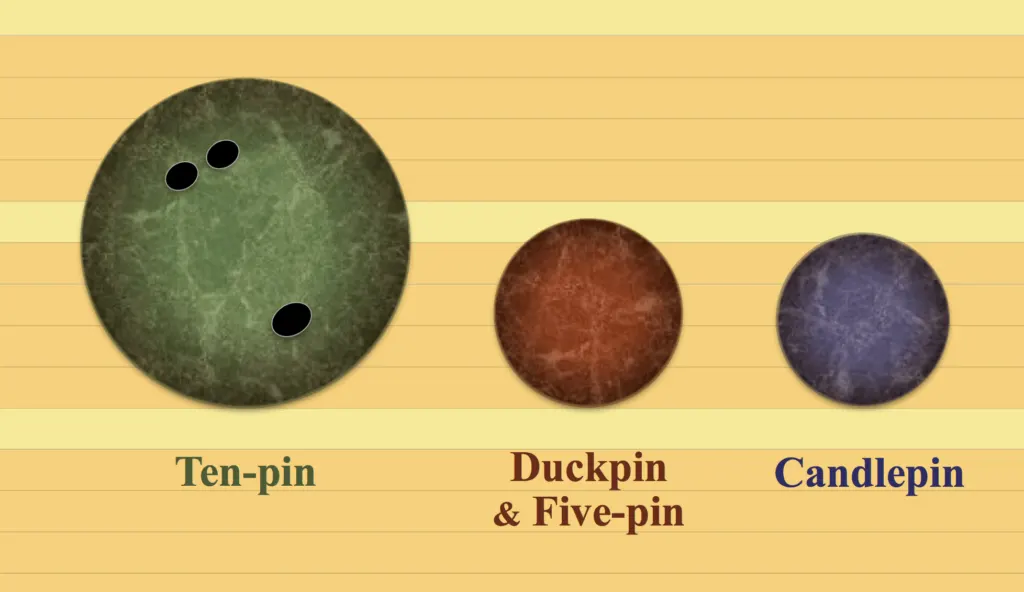 Related Articles
Candlepin bowling balls weigh between 2 to 3 pounds. This is much lighter than the traditional ten-pound bowling ball used in other types of bowling.
The light weight of the candlepin bowling ball makes it easier to spin and gives bowlers more control over their throws but also means that Candlepin Bowling balls are harder to knock down pins, which is why a higher score is needed to win.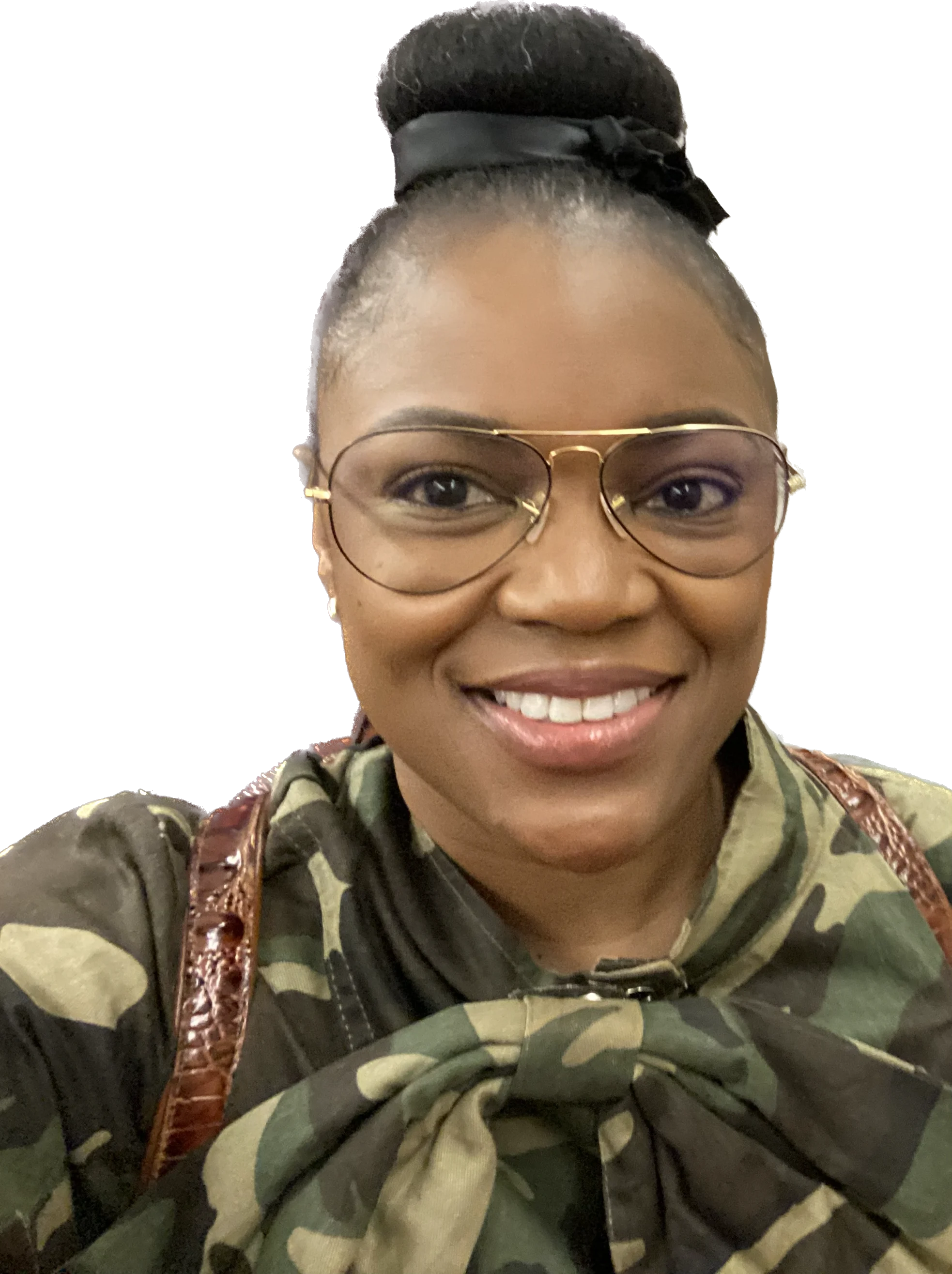 Kira Byrd, a Certified Fraud Examiner, holds a B.S. in Accounting from the University of Alabama at Birmingham. With a passion for bowling from her childhood, Kira has poured her expertise and personal experiences into creating and nurturing Bowling For Beginners. Kira's mission is to meet new bowlers where they are and guide them toward consistently achieving higher scores. With a focus on skill development and strategic techniques, she empowers readers to take control of their game and unlock their true potential.
Bowling For Beginners embodies strict editorial integrity, ensuring reliable and unbiased information. Kira's commitment to delivering valuable insights and practical strategies is reflected in every article. Here's an explanation of our editorial policy and how we get money.