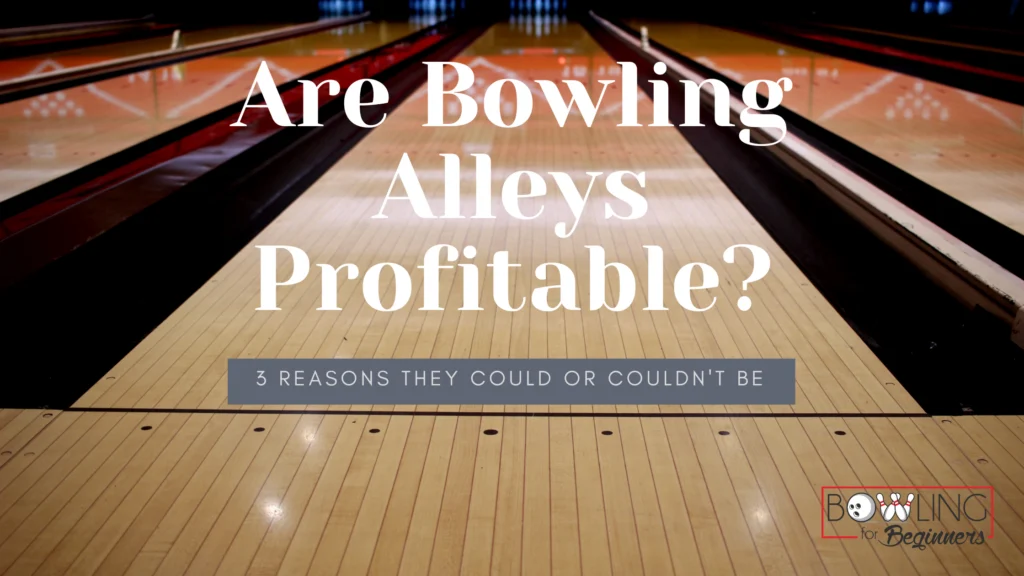 So, you've been bowling; you've paid the lane fee and the shoe rental fee, you bought tokens for the arcade games and a pitcher of beer, and maybe you even shelled out a little extra for additional games.
At some point along the way, we're sure you thought, "I should open a bowling alley– this place is a goldmine!"
Well, are bowling alleys profitable? In this article, we'll address just that. Keep reading to learn if a bowling alley would be a good investment.
Are Bowling Alleys Profitable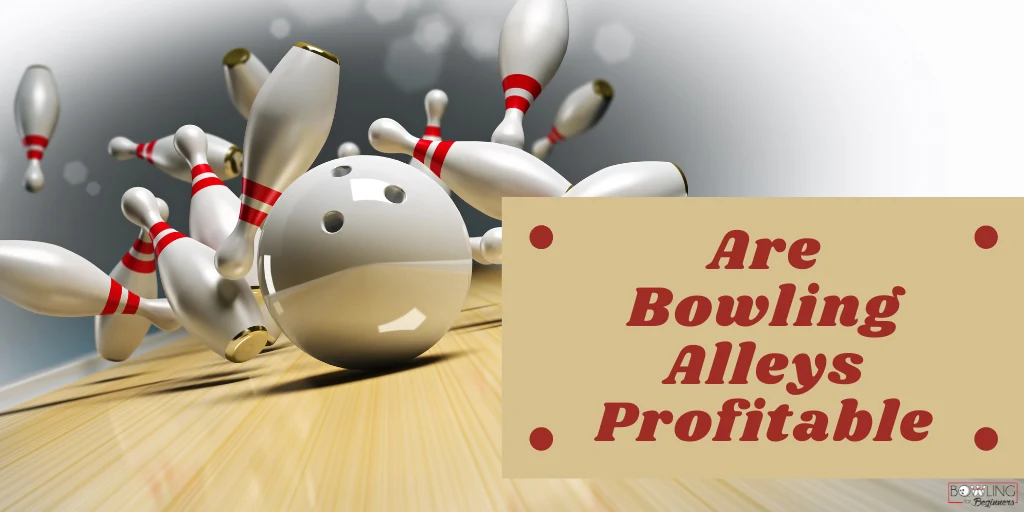 The bowling industry has seen somewhat of a decrease in interest in recent years, but not to the extent that owning a bowling alley is no longer a profitable investment.
In fact, the reality is quite the contrary.
As of 2022, bowling is a 10-billion-dollar industry. There are currently 12,000 bowling alleys (ranging from traditional to luxury) across the globe, with an estimated 67 million customers who visit them at least once a year.
A conventional bowling alley includes 30 or more lanes in the facility, and statistics show that a single lane averages around $36,700 in yearly revenue.
Three Reasons Why Bowling Alleys are a Good Investment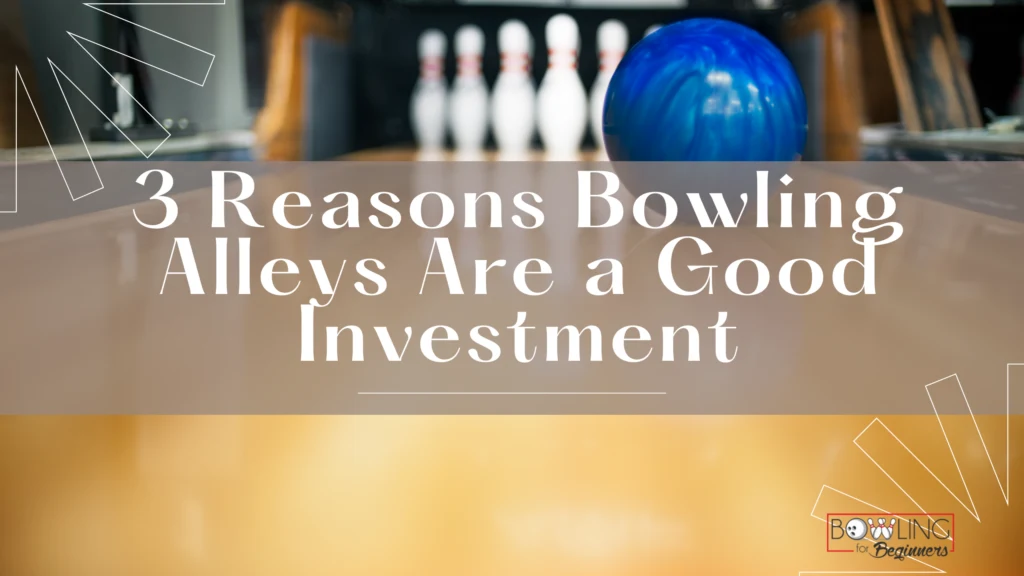 If you're looking for a push in the investment direction, there are many convincing arguments for why opening your own bowling alley is a good investment. They include the following:
1. Bowling is an Activity That You Can Enjoy Year-Round
Since all alleys are indoor bowling centers, weather conditions do not affect whether you can enjoy a game of bowling.
Even in summer's blistering temperatures or winter's frigid conditions, a bowling alley offers the perfect climate-controlled environment for a little recreational fun.
2. Bowling Is Suitable for All Ages
Bowling is a popular family activity because every member can participate in and enjoy it.
Most bowling alleys offer features to assist young children participating in the game and keep their ball out of the gutter, such as bumpers and ramps, as well as alcoholic beverages for the adults to enjoy responsibly.
3. Bowling Alleys Have Low Inventory Costs
Operating a bowling alley does not require frequent ordering of new inventory, considering that the supplies for the game are used repeatedly.
Bowling pins, for example, only need to be replaced every two years on average, and resin bowling balls can withstand approximately 300 games before their quality degrades.
Some bowling alleys even opt to sell the pins no longer in circulation as souvenirs for bowling leagues or birthday parties.
Three Reasons Why Bowling Alleys Are a Bad Investment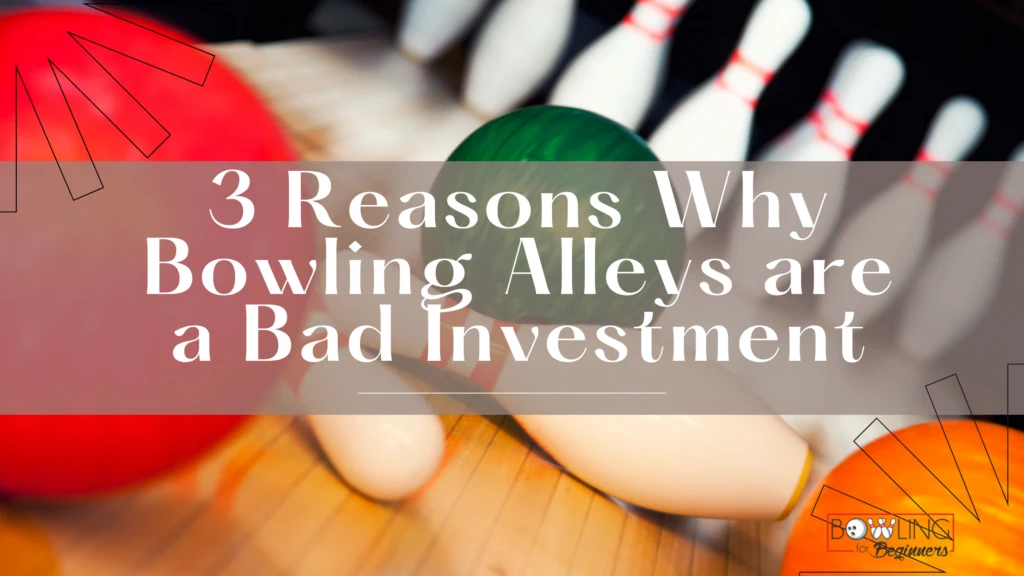 When tossing around the idea of opening a bowling alley, consider any downsides along with the upsides. Some of the downsides to owning a bowling alley include:
1. Low Gross Profit Margins
A healthy gross margin is in the range of 50% to 70%, but bowling alleys typically fall in the ballpark of 25% – 30%.
Profit margins dictate how much money is available to cover business expenses, with low gross margins resulting in less money for said expenses.
2. High Overhead Expenses
The expenses associated with starting a bowling alley can be steep, especially if you are building an alley from the ground up.
Costs of utilities, payroll, business insurance, and general facility maintenance can add up very quickly.
3. Recreational Sports Centers are a Liability
Bowling alleys may seem like a low-risk investment in terms of potential injury when compared to skating rinks or trampoline parks, but the risk is still there.
Regardless of whether your patrons are seasoned professionals or complete amateurs, the risk of injury is ever-present, and protection is needed. As a business owner, you have to understand and know what needs protecting. Here are three areas of your business that make liability insurance an absolute must.
Protecting the Bowling Alley Equipment and Building
The first reason to get business insurance for a bowling alley is to protect your equipment and the building. Whether it is the building, the lanes themselves, the balls, or the shoes that customers use, bowling equipment and space are expensive, and it is important to have coverage in case of damage or theft.
Protecting the Employees
The second reason to get business insurance is to protect your employees. Bowling alleys can be dangerous places, and there is always the risk of an employee being injured on the job. Business insurance can help to cover medical expenses and lost wages in the event that an employee is hurt while working at your bowling alley.
Protecting the Customer
Finally, business insurance can also help to protect your customers. If someone is injured while bowling at your alley, you could be liable for their medical expenses. Business insurance can help you cover those costs and protect yourself from lawsuits.
How Much Does It Cost to Open a Bowling Alley?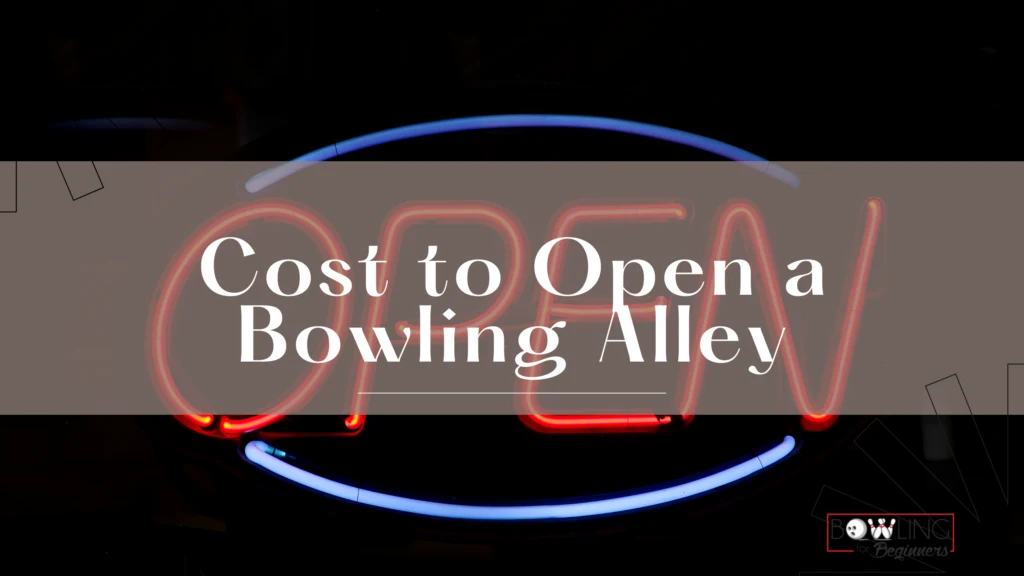 We're sure you're wondering what the actual numbers are when getting a bowling alley up and running.
The average bowling alley cost of opening a bowling alley starts at around $80,000 and skyrockets up to $3,000,000.
There are several factors at play when estimating this final cost, a major one being if you are building an alley from the ground up or buying an alley from its previous owner.
Costs Associated with Building a New Bowling Alley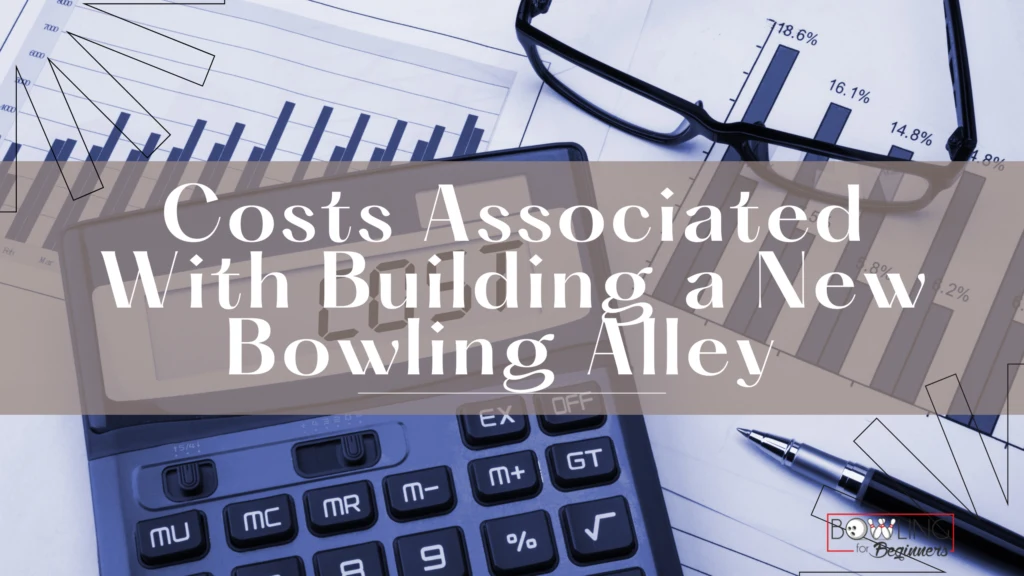 Building any commercial space is associated with a handful of costs, and a bowling alley is no exception.
Of course, actual prices will vary from location to location, but some expenses to keep in mind when building a bowling alley are:
Purchasing a plot of land big enough to accommodate the facility and five parking spaces per lane.
Construction of the facility.
Licenses (Operating license, business license, liquor licenses and food permits, employer identification number, etc.)
Purchasing the equipment and machines needed for the game (ball returns, pin replacement, etc.)
Investing in bowling supplies such as balls, pins, and shoes.
Purchasing furniture and decor, including seating around bowling lanes for those waiting their turn to bowl or customers enjoying refreshments.
You will need to cover all of these costs before considering the price of employee recruitment, payroll, employee perks and marketing for your business.
Marketing
Marketing your bowling alley is key for its success as a business because it lets people know that your bowling alley exists, and it can attract new customers.
Good marketing can also help increase repeat business from current customers.
Three ways to market your business: via social media, community involvement, or hiring a marketing firm.
Whatever marketing strategies you choose, make sure that you are consistent with your branding and that you allocate sufficient budget to marketing. A good bowling alley will not be successful if people do not know about it, nor will it survive if the branding is off. So make sure that your marketing efforts are up to par.
Costs Associated with Buying an Existing Bowling Alley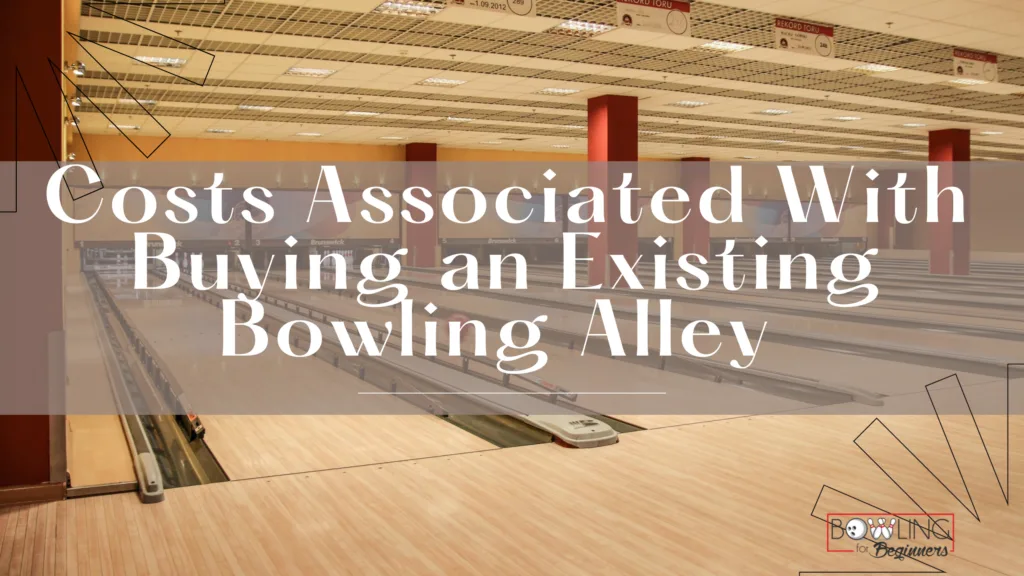 Buying a bowling alley from its previous owner is a great way to spend less money, as remodeling is far cheaper than building a brand-new structure.
Additionally, you will be able to open the doors of your alley and start generating revenue much more quickly than if you had to wait for construction to complete.
However, there are still some things to keep in mind when taking this route, including:
Why is the bowling alley being sold? Maybe the facility isn't generating enough revenue to still be profitable, which you will want to know before investing.
Are there any renovations needed? The bowling alley could probably use a bit of a facelift once it's under your management, so make sure to keep the remodeling costs range in mind; an extra $50,000 to $65,000 could be added.
What is the condition of the supplies and bowling equipment? Can you take ownership and go into business the next day, or do the lanes, pins, and machines need an upgrade?
What was the previous pricing structure, and is there room for improvement? If they were charged too little, there is no profit. If they were charged too much, customers are turned off by the price and won't come back. Especially for businesses that rely on customers paying for repeated use. This can be devastating. It is essential to carefully consider the previous and future pricing structure. Here are three pricing structures to consider: charging per player, charging a flat fee per game, or charging by the hour. So pay close attention to your sales and your financial records.
Buying an existing bowling alley could be a way of fast-tracking your dream of owning a bowling alley, but make sure to do your due diligence and the dollars make sense so that dream doesn't become a financial nightmare.
Three Things to Consider Before Opening a Bowling Alley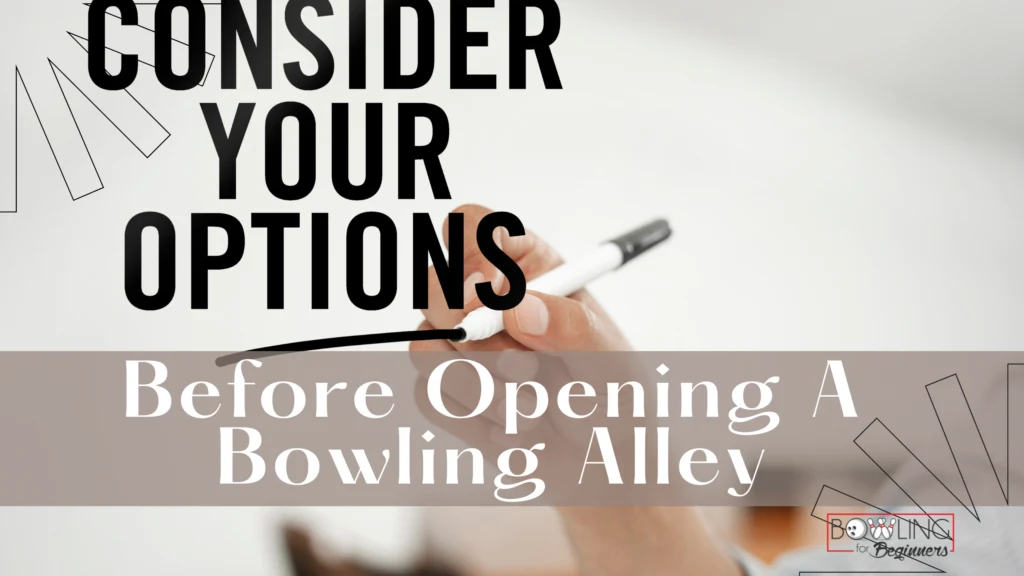 You should not make business decisions lightly.
Bowling alleys are associated with high overhead costs and lower-than-average gross profit margins, so some considerations must be made to determine your venture's success.
These factors include:
1. The Population Density of the Surrounding Community
While it's not the only factor that will cause your business to sink or swim, consider how many potential patrons surround the area of your bowling alley.
A sparsely populated (ghost town) community will require repeat customers for your business to stay afloat, while a denser population (always busy) will allow you to rely on one-time customers.
2. Are There Nearby Competitors?
Market saturation is a possible issue and is not at all your friend when owning a niche sports facility.
If there are other bowling alleys near your potential alley, this is something to think about carefully, as you will have to find a surefire way to set yourself apart from the competition.
3. What Sets You Apart?
You can roll a ball down a lane and knock down pins at every bowling alley. So, what makes your bowling alley different from the others (why should the customer come to you vs the other alleys)?
Will you have a state-of-the-art scoring system? Will you offer the most comfortable bowling shoe money can buy?
Or will you have a chef-inspired kitchen? Find a way to take your bowling alley from "a" bowling alley to "THE" bowling alley that no one else is offering at a price you can still turn a profit.
The Business of Bowling: Looking through the lens of a Proprietor
Frequently Asked Questions
How Do Bowling Alleys Actually Make Money (Revenue)?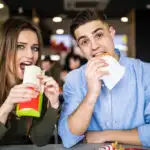 Bowling alleys generate the majority of their revenue from food and drink sales.
They also make money from selling equipment and renting out space for birthdays, fundraisers, corporate events, family functions, and community affairs.
How Much Does It Cost To Actually Run A Bowling Alley (Operating Expenses)?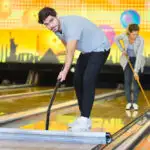 Overall, the cost of running a bowling alley can be significant (upwards of $30,000 per month or more).
The expenses associated with running a bowling alley can vary widely depending on the size, location, and amenities of the business. Here are a few common expenses that all bowling alley business owners must take into account:
Climate Control– bowling alleys must maintain a constant temperature to ensure that the lanes are in optimal condition.
Lane Maintenance and Equipment Repairs– the cost of labor on equipment and labor parts are significant expenses, must have lane oil (conditioner) and concessions equipment. Leasing equipment is always an option.
Alley Staff– Leadership for staff is paramount, so the front staff can contribute to a great bottom line. The cost of staffing is also a significant expense as bowling alleys require staff to operate the pro shop, front desk, snack/drink bar, manage lane assignments, and provide customer service.
Marketing– The business will need a steady flow of patrons. Keeping your brand and business relevant is crucial.
Also, you must obtain different sets of permits such as a liquor license and a food handling permit.
Are Bowling Alley Franchises an Option?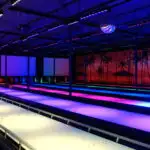 Yes, they are! Franchising a bowling alley is an option.
A franchise is a proven business that has created a model that has worked for them. For a cost, they allow you to join their proven model for your business' success.
A few franchisors to choose from and a few things to consider:
810 Billiards & Bowling– your available cash to invest in this franchise can range from $400k to upwards of $750k. Actually, this franchise is bringing bowling near me in Alabama!
AMF– the startup cost can range from $125-$150k per lane.
Brunswick Bowl– from concept to completion, will have to be contacted for information.
Main Event (purchased by Dave & Buster 4/2022)- Are you interested in setting up a franchise inside or outside the United States? Are you interested in turnkey branding? Be sure to check out Main Event pricing.
What can you expect from a franchisor? It really depends. So, the basic questions you should ask and understand are:
1. Is it their way or the highway? Will you have the freedom and flexibility to make your own choices?
2. What is the cost of the franchise? What exactly does the cost include? Is additional funding needed after the initial cost is paid?
3. Are you required to maintain a certain bank balance?
Ask questions so you understand the process. Also look for how the process benefits you and what extra you'd need to consider. For other considerations, will they assistance as a resource to map out those next steps?
Related Articles
Every business decision comes with a degree of risk and reward, a bowling alley being no different.
Bowling is a multi-billion-dollar industry, meaning there is plenty of potential to turn a significant profit should you choose to invest in a bowling facility.
Of course, many factors need to be considered that affect both the cost to operate and the popularity of your business, but if well-thought-out, a bowling alley can be a profitable investment.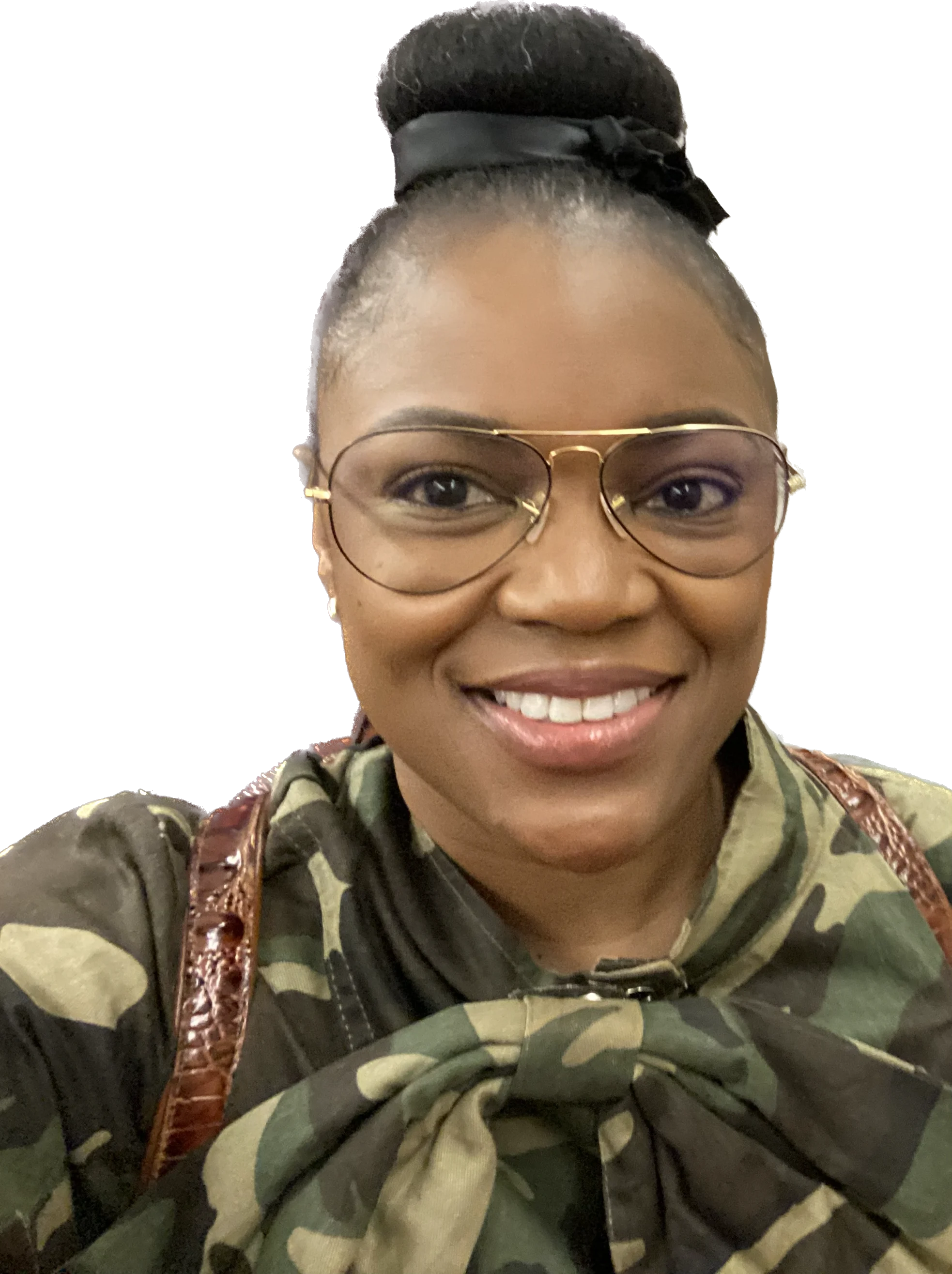 Kira Byrd, a Certified Fraud Examiner, holds a B.S. in Accounting from the University of Alabama at Birmingham. With a passion for bowling from her childhood, Kira has poured her expertise and personal experiences into creating and nurturing Bowling For Beginners. Kira's mission is to meet new bowlers where they are and guide them toward consistently achieving higher scores. With a focus on skill development and strategic techniques, she empowers readers to take control of their game and unlock their true potential.
Bowling For Beginners embodies strict editorial integrity, ensuring reliable and unbiased information. Kira's commitment to delivering valuable insights and practical strategies is reflected in every article. Here's an explanation of our editorial policy and how we get money.