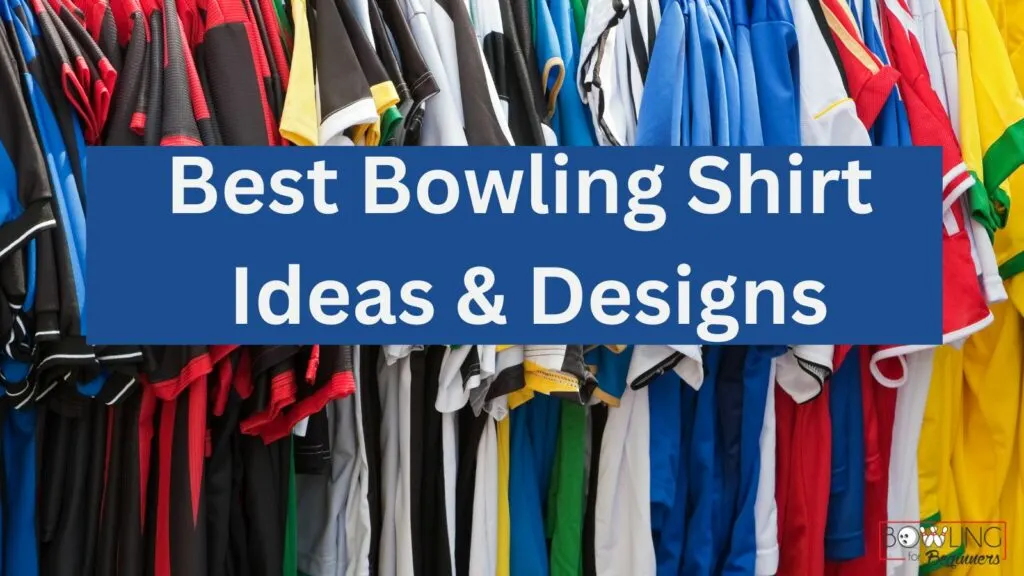 Bowling shirts aren't just any shirts. They're a stylish fashion statement representative of bowling culture. Whether you're a seasoned player looking for a way to show your love for the sport or a casual bowler who loves everything retro, the right bowling tees can elevate your aesthetic to a whole new level.
In this article, we'll dive into some creative bowling shirt ideas to help you find that perfect tee. We'll explore classic designs, modern trends, and even some out-of-the-box concepts. If you're interested in that, keep on reading!
Bowling Shirt Ideas to Consider
You came here for bowling shirt ideas, and we're here to deliver. There are tons of bowling shirt types to consider for both men and women- more than you could ever imagine! We've narrowed our ideas to the absolute best to ensure things don't become overwhelming.
Key Takeaways:
Variety of Bowling Shirts: We discuss various bowling shirts, including retro, two-tone, personalized, logo styles, comic book-themed, Hawaiian print, neon-colored options, vintage rockabilly, pin design, animal print shirts, funny, veteran, holiday styles, scoreboards, custom and music-inspired shirts.
Design Features: Bowling shirts differ from regular clothes because of their design features. The shirt has a button-up design, collar, loose fit, unique prints, and breathable fabric.
Personalization Options: Personalize bowling shirts by adding names, initials, logos, or specific designs. Personalization allows you to customize the shirts to your liking and create a unified look for your bowling team.
What to Wear with Bowling Shirts: You can create a whole outfit by matching bowling shirts with jeans, khakis, or shorts. Also, you can add bowling shoes, hats, or sunglasses. It works for casual or competitive settings.
Different Names for Bowling Shirts: Bowling shirts go by different names. A few are bowling jerseys, camp shirts, team or league shirts, and Hawaiian shirts.
Veteran Bowling Shirts
Thank a veteran who bowls with a shirt! All branches Navy, Army, Air Force, Marine, and Coast Guards stand proud for us all.
Retro Two-Tone Bowling Shirts
If you love the iconic 50s era, then a retro two-tone bowling shirt might be just what you need. Think classic black and white or bold combinations like red and yellow to add a pop of color. These shirts typically feature contrasting colors on the sleeves, collar, and pocket for an eye-catching look.
Personalized Bowling Shirts With Names/Initials
It's hard to go wrong with a personalized bowling shirt. You can add your name, initials, or even a nickname to make your shirt unique. This option is perfect for team uniforms for cohesiveness, but it also works if you want to stand out from the crowd.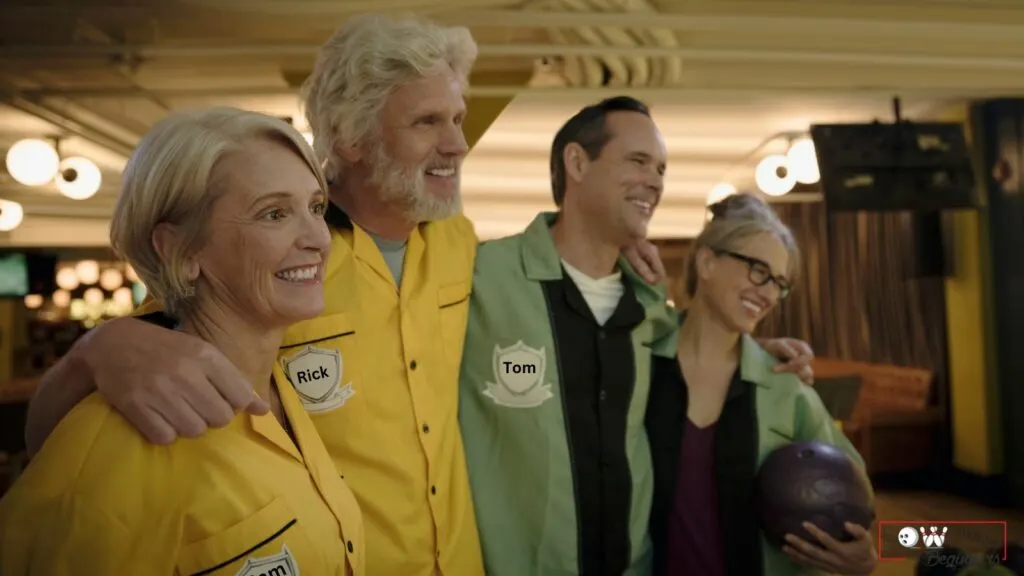 Logo Bowling Shirts
Show your team spirit by incorporating logos into your bowling shirt. It can be a fun and stylish way to express your personality or affiliation. The logo could be a team emblem, a sponsor's logo, or even a design that symbolizes your favorite bowling alley.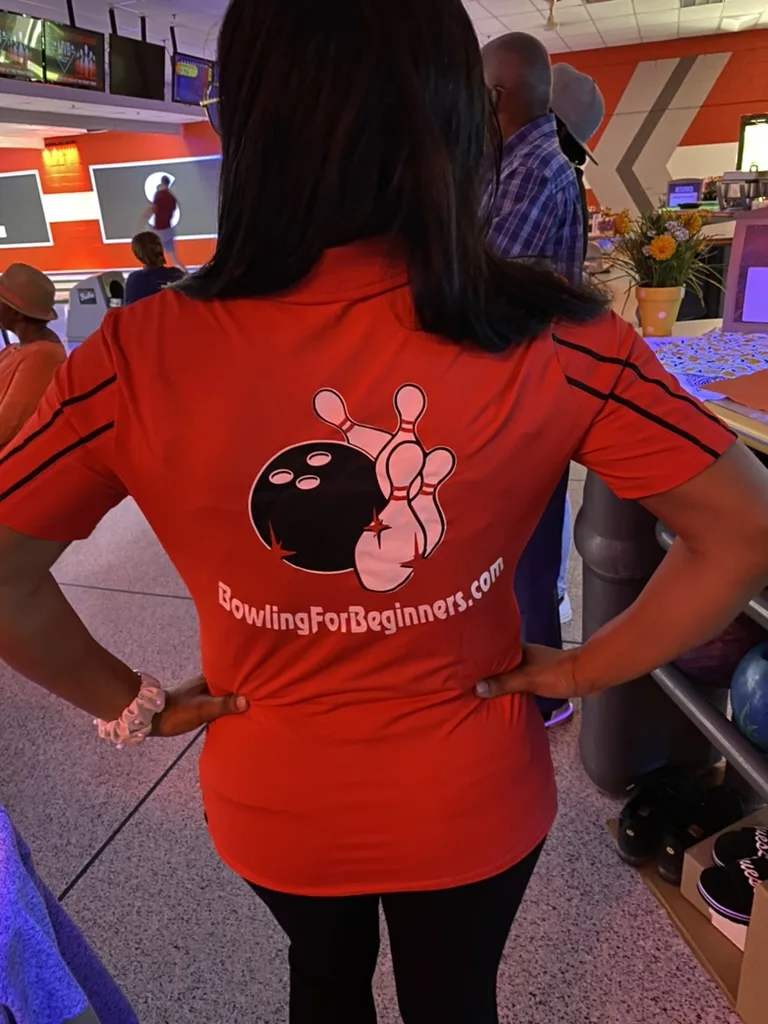 Comic Book Themed Bowling Shirts
Batman, Superman, Wonder Woman – why not incorporate your favorite superhero into your bowling shirt? These themed shirts are fun and serve as a great conversation starter on the lanes.
You can go all out with a full shirt design or stick to subtle graphic elements for a more understated look.
Comic Book Style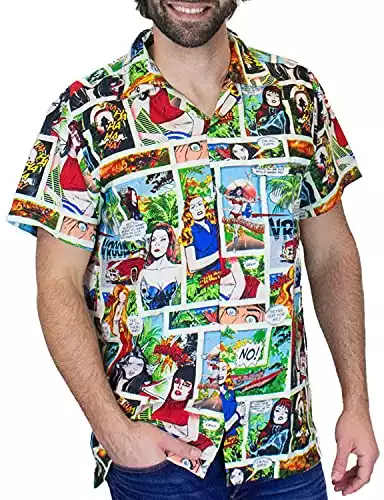 Comic Bowling Shirt
Want to have fun on the lanes- well, this is the shirt for you.
With a fantastic cartoon print with a comic book pattern, you will start conversations.
Check Price
Bowling for Beginners may receive compensation if you make a purchase using this link, at no additional cost to you.
Hawaiian Print Bowling Shirts
We all love a good Hawaiian shirt for the beach, but have you ever considered taking that tropical vibe to the bowling alley? These shirts feature bright and vibrant prints of flora, fauna, or even surfing scenes.
Hawaiian Bowling Shirt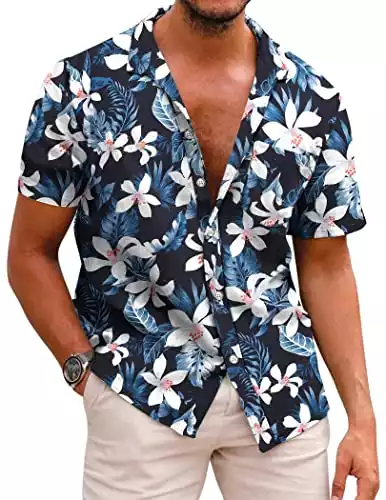 Neon-Colored Bowling Shirts
Do you live life in color? Then neon bowling shirts are the way to go. These bright and bold shirts make a statement on the lanes and can be a fun choice for blacklight bowling events (also called cosmic bowling ).
Vintage Rockabilly Bowling Shirts
For the rockabilly or vintage lover, these bowling shirts are a must-have. With their signature retro look and classic cuts, these shirts are sure to turn heads both on and off the lanes. You can go for a classic black and white design or add some bold colors for more of a modern twist.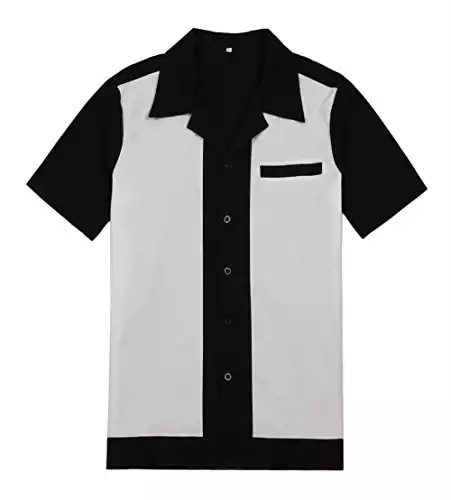 Pin Design Bowling Shirts
Bowling is all about sending those pins flying. So, why not show your love for the game with a bowling pin design on your bowling shirt? You could go with a single pin, 10 standing pins, or a bowling ball striking the pins.
Animal Print Bowling Shirts
If you're more of a wild and free spirit, then animal print bowling shirts might be right up your alley. From leopard prints to zebra stripes and everything in between, these bold prints bring a touch of fierceness to your bowling attire.
And who knows, they might even bring out a little extra ferocity on the lanes!
Funny Bowling Shirts
Bowling is all about having a good time, so funny shirts fit the vibe! Funny bowling t-shirts are a little tricky to design, but if you manage to get things right, your shirt will tickle anyone who sees it. How you make the shirt funny will depend on whether you want a text-only shirt, a graphic shirt, or a little bit of both.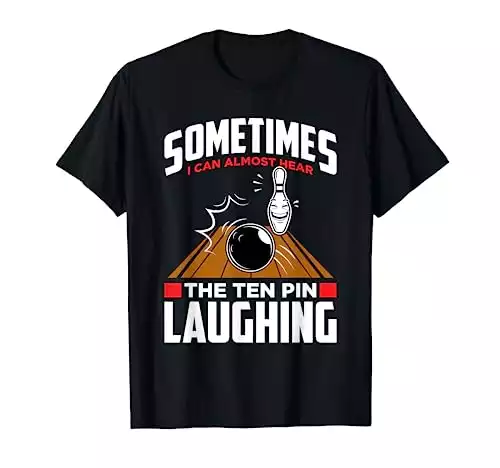 Scoreboard Bowling Shirts
Scoreboard bowling shirts are not as common as some of the others on our list. So, if you want to stand out, here's your chance. You could try a shirt featuring the strike symbol "X" (or several of them if you're known to bowl strike streaks). The shirt might also feature the spare sign "/" or the word split.
Custom Bowling Shirts
Can't find the perfect bowling shirt for you? Then, why not design your own? Many companies offer custom bowling shirts where you can choose everything from fabric to color, print, and more. You can even add your name or team logo.
Just be prepared to pay a little extra for the personalized touch.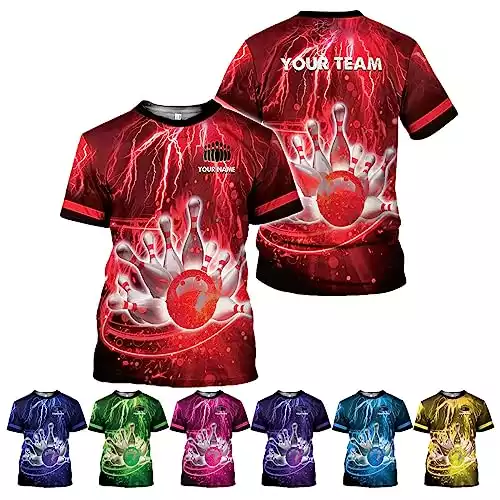 Holiday Inspired Bowling Shirts
What holiday is your favorite? Mardi Gras, Christmas, Thanksgiving, Halloween? I bet there are bowling shirts, especially for you! You can get a shirt for each occasion and make it all your own.
Music Inspired Bowling Shirts
Are you a music lover? Then these musically inspired bowling shirts are a must have! You can choose from instruments to musical notes and everything in between. You may be able to customize it.
What Makes a Shirt a Bowling Shirt?
Button up design, collar, loose fit, unique prints, and breathable fabric.
A few key elements make them stand out from other shirts. These include:
Button-up design: Most bowling shirts have a button-up front, which lends a touch of sophistication to your look.
Collar: The classic bowling shirt typically has a pointed collar for a professional vibe. Most of the time, it features invisible technology to make it lay flat.
Loose fit: Bowling shirts are meant to be loose and comfortable, allowing for a full range of motion while bowling. And if it is form-fitting, it'll usually have substantial stretch.
Unique prints: Whether it's classic stripes or bold animal prints, the design on a bowling shirt sets it apart from other shirts.
Breathable fabric: Since bowling is a physical activity, most bowling shirts are made from lightweight and breathable fabrics to keep you cool and comfortable.
What to Wear With a Bowling Shirt?
Jeans or khakis, shorts, bowling shoes, accessories, or layers.
Once you've nailed down your shirt design, it's time to think about what to wear with it. Here are some options to consider:
Jeans or khakis: A classic pair of jeans or khakis is a safe and stylish choice that pairs well with any bowling shirt.
Shorts: For a more casual look, opt for shorts in warmer weather. Just make sure they're not too tight- you want to be able to move comfortably while bowling.
Bowling shoes: If you are planning on hitting the lanes, don't forget to bring your bowling shoes! They complete the look and provide the necessary stability, glide, and support for your game.
Accessories: Don't be afraid to add personal flair with accessories like a hat or sunglasses. Just make sure they're comfortable and won't interfere with your game.
Layering: If you want to add some layers, a lightweight jacket or cardigan can complement a bowling shirt nicely while providing extra warmth in colder weather or air-conditioned bowling alleys.
What Are Bowling Shirts Called?
Bowling shirts are also called bowling jerseys, bowling tops, camp shirts, team or league shirts, and Hawaiian shirts due to their distinctive style and design.
But, by and large, you'll often hear them referred to as bowling shirts. So, if you're wondering which term to use, you can be safe and use the term "bowling shirts." If you're shopping in the U.S., the other person will probably know exactly what you're talking about.
Related Articles
So, there you have it – everything you need to know about bowling shirt ideas and designs. As you can see, these shirts are anything but boring, and you can easily accessorize or personalize them to make your look special.
If you want to learn more about what you can wear with your bowling shirt, this article will be helpful to you. In it, we recommend bowling outfits for ladies, guys, and the entire family. And if you're looking for a gift for that bowler in your life, check out this gift guide for some ideas. Good luck!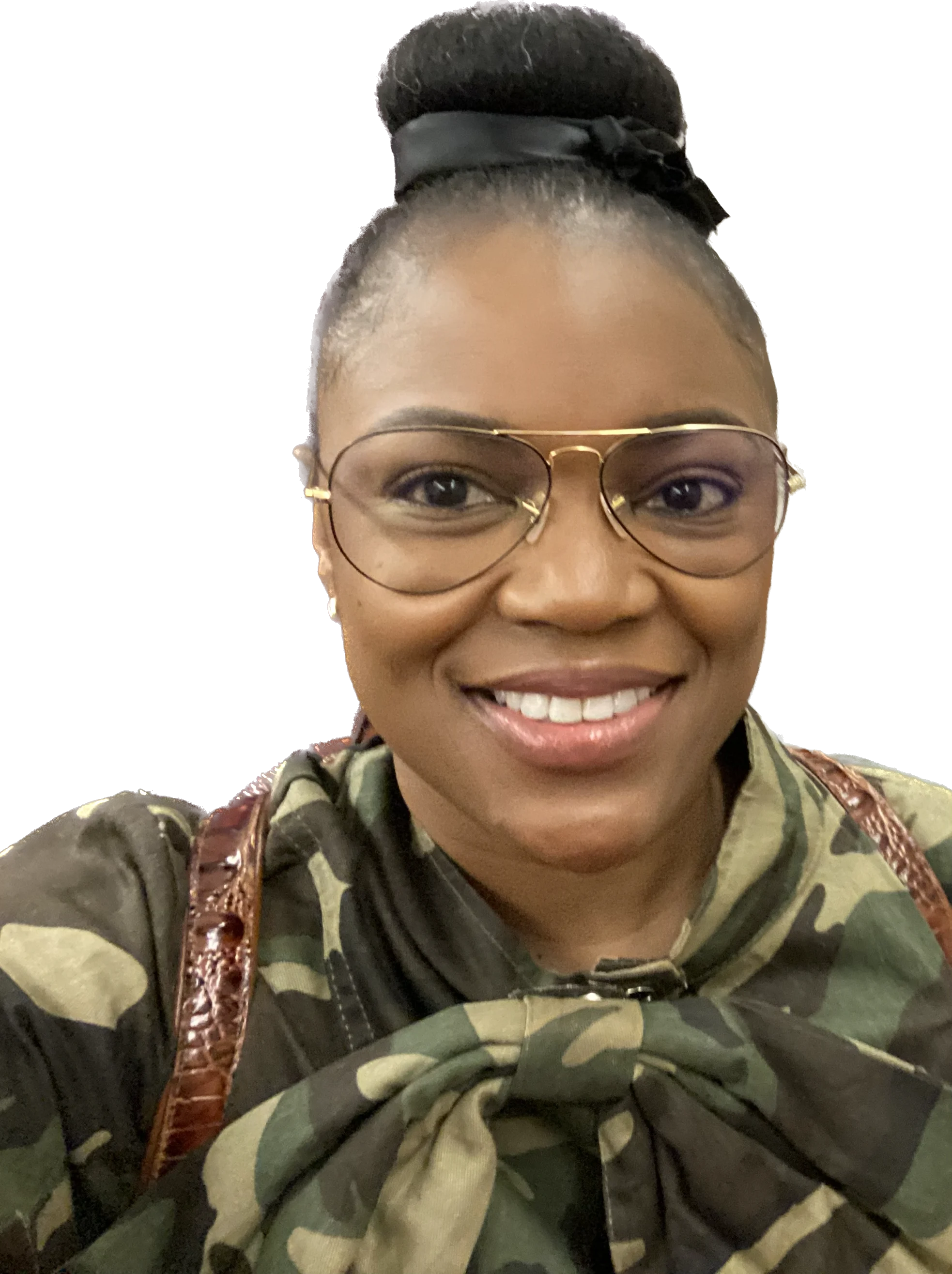 Kira Byrd, a Certified Fraud Examiner, holds a B.S. in Accounting from the University of Alabama at Birmingham. With a passion for bowling from her childhood, Kira has poured her expertise and personal experiences into creating and nurturing Bowling For Beginners. Kira's mission is to meet new bowlers where they are and guide them toward consistently achieving higher scores. With a focus on skill development and strategic techniques, she empowers readers to take control of their game and unlock their true potential.
Bowling For Beginners embodies strict editorial integrity, ensuring reliable and unbiased information. Kira's commitment to delivering valuable insights and practical strategies is reflected in every article. Here's an explanation of our editorial policy and how we get money.