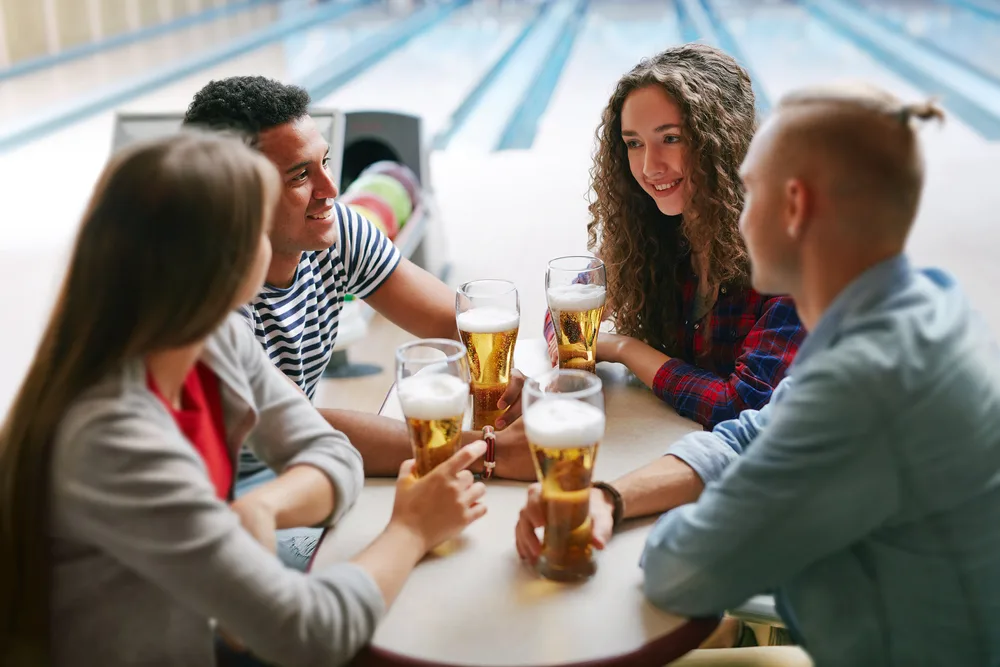 Bowling and drinking, also known as drunk bowling games, go together like pieces of a puzzle. There are many drinking games that were specifically designed for a night out of ten pin bowling.
If you're looking for a way to make your next trip to the bowling alley more exciting, then try out one of these bowling drinking game ideas. You're sure to have a ball (pun intended)!
Bowling Drinking Games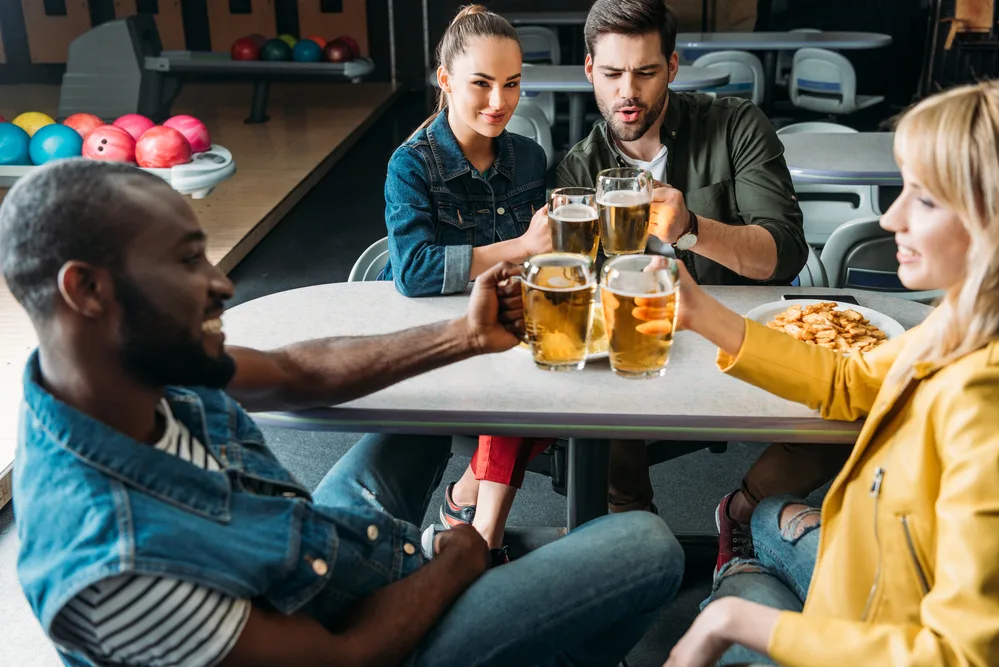 Beer Bowling (Sips)
One popular bowling drinking game is called "Beer Bowling." Here are the rules: bowl like you usually would, but for every pin left standing, take a sip of beer.
If you manage to knock all the pins down with your first ball, the person next to you will have to finish their beer all at once. If you get a spare, you get to order one or more people in your party to take 2 sips.
Beer Bowling (Shots)
This is a variation on Beer Bowling, where instead of taking sips of beer, you take shots. For every pin that's left standing, take one shot.
If you get a strike, choose someone to take two shots. And if you get a spare, choose someone to take one shot. This one is best played with large groups (8 to 10).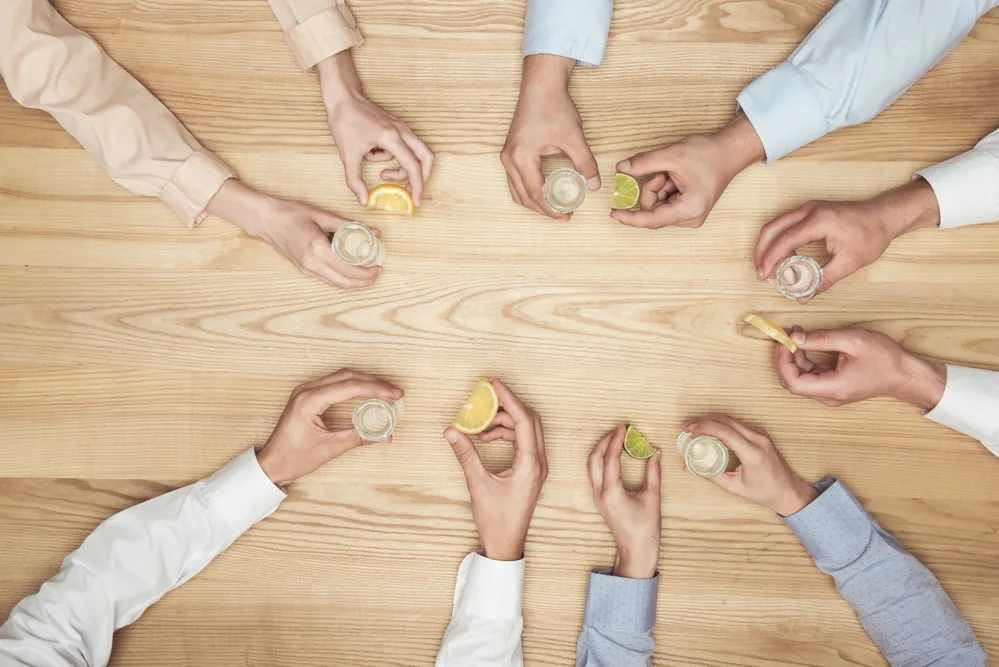 Strike and Order
This bowling game is super simple; the person who gets a strike gets to give an order -something involving alcohol – to another player. For instance, the person could order the other player to take a shot or to finish their drink.
The same goes for a spare, but the order is generally less intense. If no one gets a strike or a spare, the one who knocks down the most pins in a frame gives the order.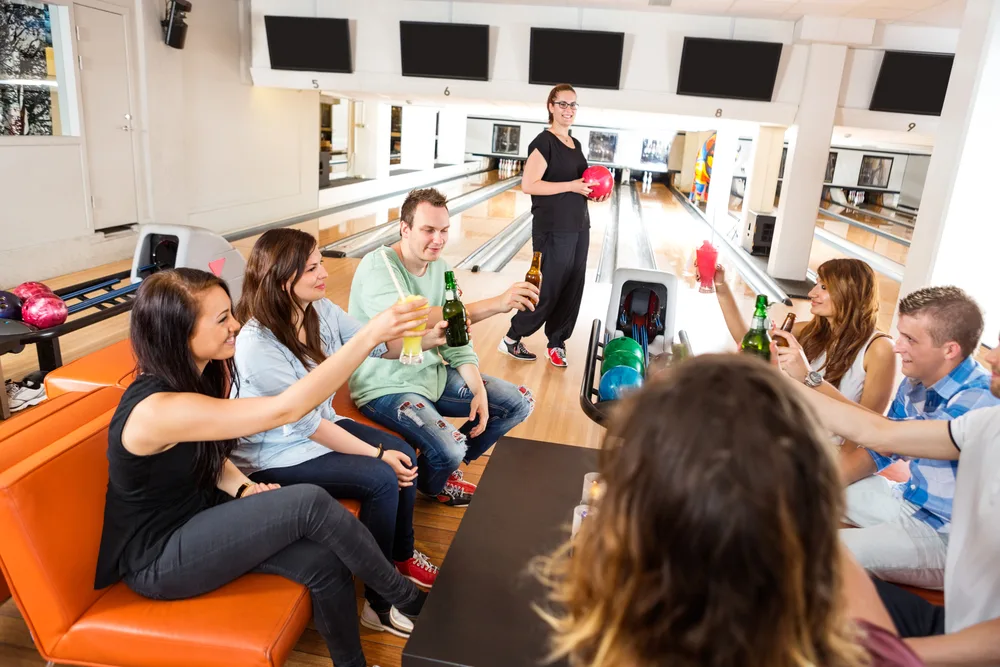 King/Queen Pin
In this game, the person who knocks down the most pins in one turn is crowned the "King (or Queen) Pin." As king or queen of the lane, they get to make a rule that everyone has to follow for the rest of the game.
For instance, the King Pin could make a rule that everyone has to drink every time they get a gutter ball.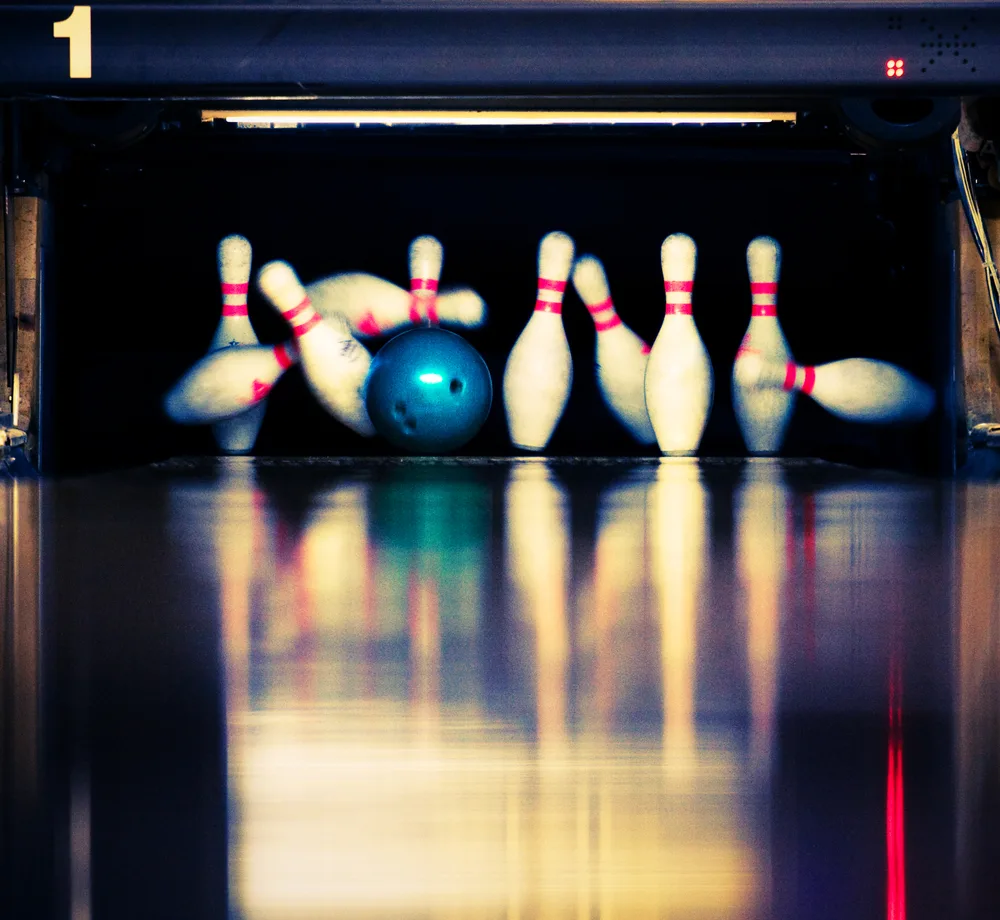 Bowling Roulette
This game is best played with at least four people but can be played with as many as you like. Everyone bowls two frames and whoever has the lowest score at the end of the two frames has to spin the "roulette wheel."
You can make a makeshift roulette wheel or buy one online. The player will spin the wheel, and whatever number it lands on, they have to drink that many sips (or half shots) of beer or liquor.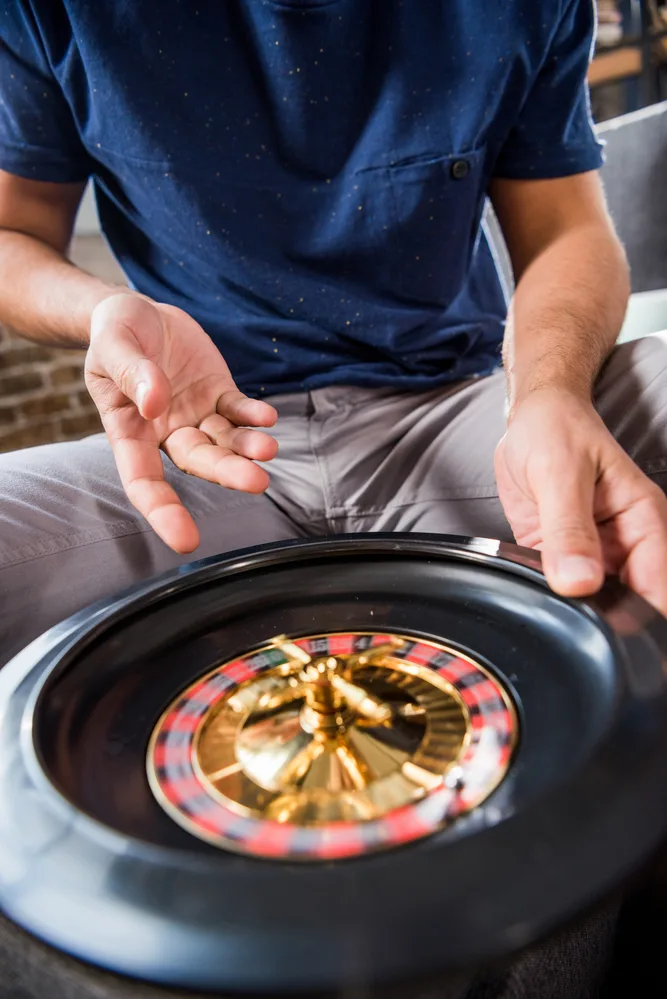 Gutter Drunk
This is a great drinking game for any group – there's just one rule. Bowl how you normally would, but if you get a gutter ball, you have to drink. It's up to your party how many shots or sips you have to take.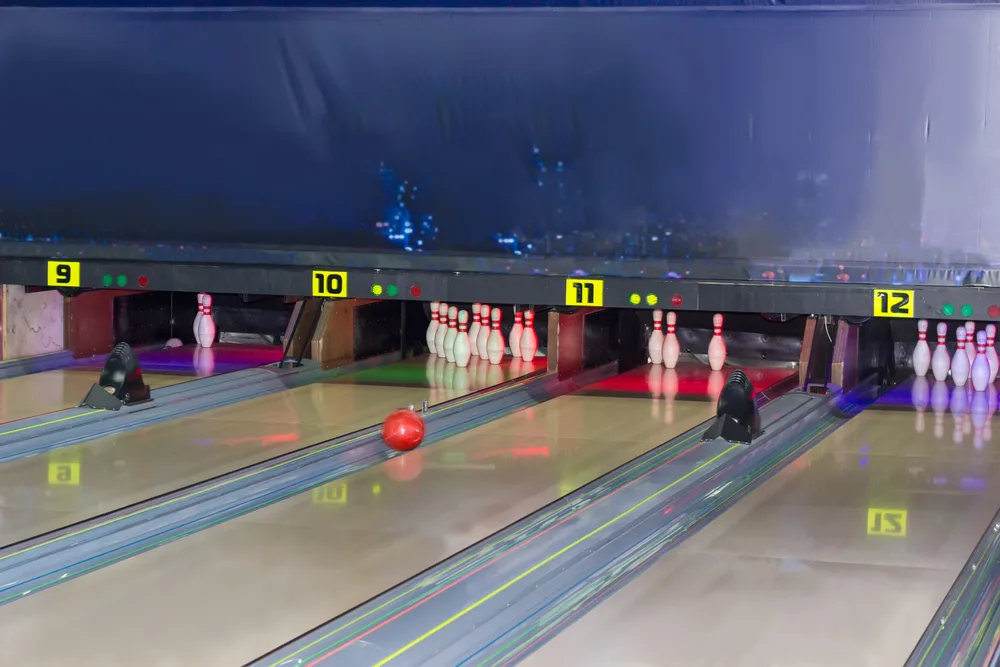 Make Rules up as You Go
Another way to play a drinking game while bowling is to simply make up your own rules as you go. For example, you could take a drink every time you bowl a gutter ball.
Or, you could finish your drink if the person next to you gets a strike. You could even make a rule that everyone has to drink every time someone gets a strike. The possibilities are endless – just use your imagination and have fun!
Tips for Making up Your Own Bowling Drinking Games
When making up your own bowling drinking game rules, there are a few things you should keep in mind. First, make sure the rules are fair. You don't want to make a rule that's too easy or too difficult – otherwise, people will get bored or frustrated.
Second, make sure the rules are easy to understand. No one wants to play a game with complicated rules. And lastly, make sure the rules are safe.
Don't make a rule that could potentially hurt someone – like telling people to drink 10 beers straight if they bowl the lowest score.
Third, be creative and think outside the box. The sport of bowling is available on various gaming platforms like the Wii. A Wii bowling drinking game can be open to as many players as you like, and you can make up the rules.
With these tips in mind, you're sure to come up with some fun and exciting bowling drinking games of your own.
ME & PROWL456 PLAYING A DRINKING GAME WHILE PLAYING Wii Sports
Should You Play Drinking Games at a Bowling Alley?
Most bowling alleys have a bar, so you can drink while you bowl. Still, some think it's best to avoid drinking games at the bowling alley, and it's clear to see why. If things get too crazy, you could end up damaging equipment or injuring yourself.
Plus, you'll probably have to pay for any damage you cause, and you could get kicked out of the bowling alley. So, if you're going to play drinking games at a bowling alley, be sure to do so responsibly.
But if you really want to let your hair down, you're probably better off purchasing a mini bowling set for your home. It'll give you a similar playing experience without all the public risk.
That way, you can drink to your heart's content without having to worry about how to get home from the bowling alley or paying up if you damage the alley's equipment.
How to Make Drinking Games Safer at a Bowling Alley
If you do decide to play bowling drinking games at a bowling alley, there are a few things you can do to make sure everyone stays safe.
First, make sure you're bowling in a group of people you trust. That way, if things get out of hand, you won't be on your own.
Second, be aware of your surroundings and don't get too rowdy. Finally, drink responsibly and know your limits.
If you or someone in your group starts to feel sick, it's time to call it a night.
In addition, don't forget basic bowling safety etiquette. Anytime you'll be hurling a ball at high speeds, there's potential for injury. So, be sure to follow the below safety suggestions:
Always wear shoes. If you don't have bowling shoes, you can usually rent them at the alley. Never wear open-toe shoes.
Be careful when picking up a bowling ball. Always hold it with two hands, one on each side of the ball. Don't pick up the ball by the hole.
Don't throw the ball overhanded. Roll it down the lane. Throwing the ball could damage the equipment or injure someone.
There should be only one person on the lane approach at a time. If multiple people go down there at a time, there's an increased risk of bumping others and causing an altercation.
Don't go over the foul line. It's much more slippery beyond that line, and you're almost guaranteed to fall.
If you're playing with a group of people who are unfamiliar with bowling, go over the basics with everyone before you start playing. That way, everyone will know how to safely play the game.
As long as you follow these basic safety guidelines, you should be able to enjoy a few rounds of bowling along with drinking games!
But remember that whenever there's alcohol involved, things can quickly get out of hand. So, be sure to drink responsibly and always have a designated driver.
Related Articles
So, there you have it – several bowling drinking games you can try on a night out with some friends. You've also snagged a few tips to keep the affair safe for everyone.
We hope that this article has inspired you to try something new the next time you hit the lanes. We wish you the best of luck (and fun!) on your next bowling adventure. Cheers!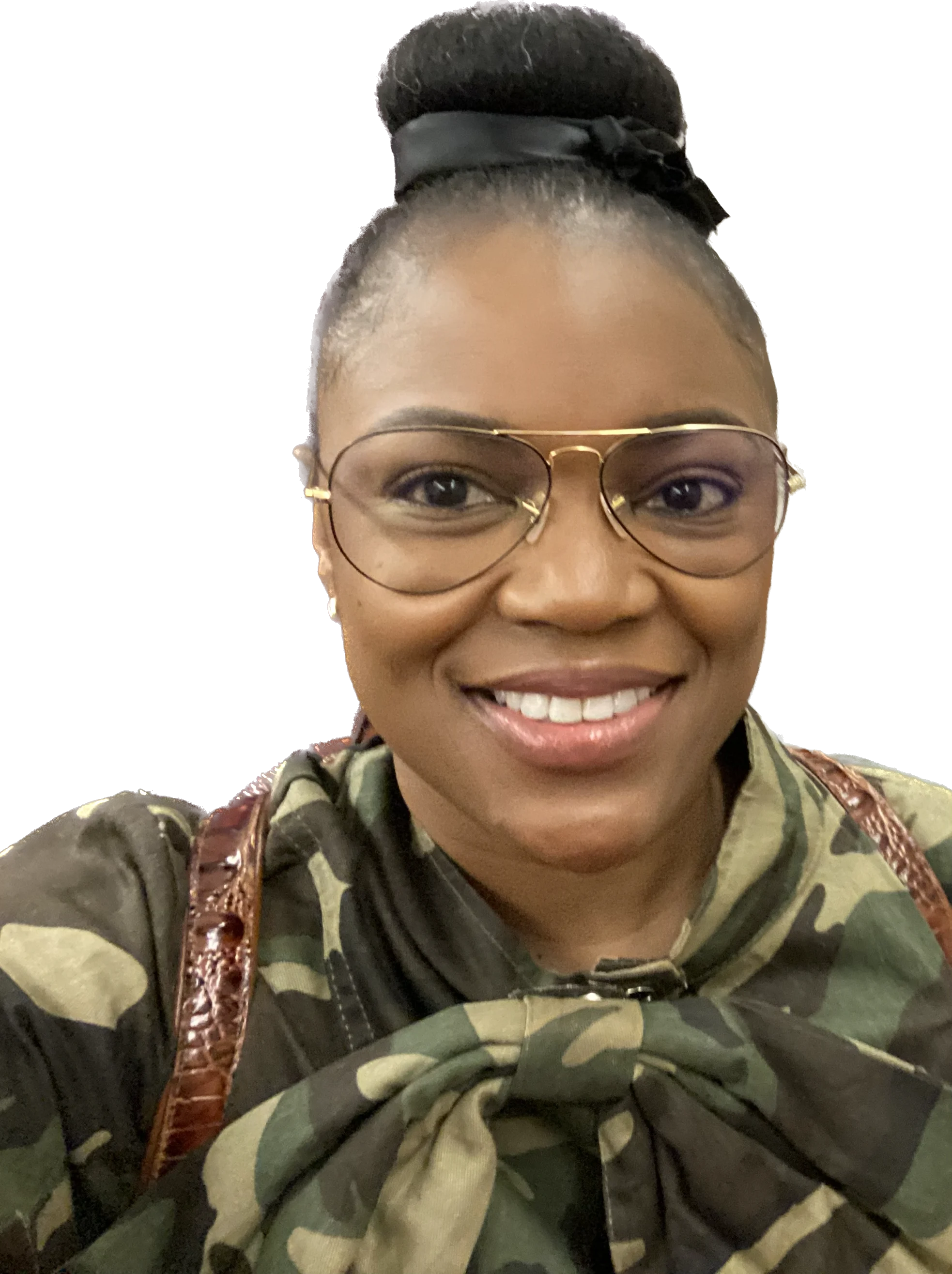 Kira Byrd, a Certified Fraud Examiner, holds a B.S. in Accounting from the University of Alabama at Birmingham. With a passion for bowling from her childhood, Kira has poured her expertise and personal experiences into creating and nurturing Bowling For Beginners. Kira's mission is to meet new bowlers where they are and guide them toward consistently achieving higher scores. With a focus on skill development and strategic techniques, she empowers readers to take control of their game and unlock their true potential.
Bowling For Beginners embodies strict editorial integrity, ensuring reliable and unbiased information. Kira's commitment to delivering valuable insights and practical strategies is reflected in every article. Here's an explanation of our editorial policy and how we get money.