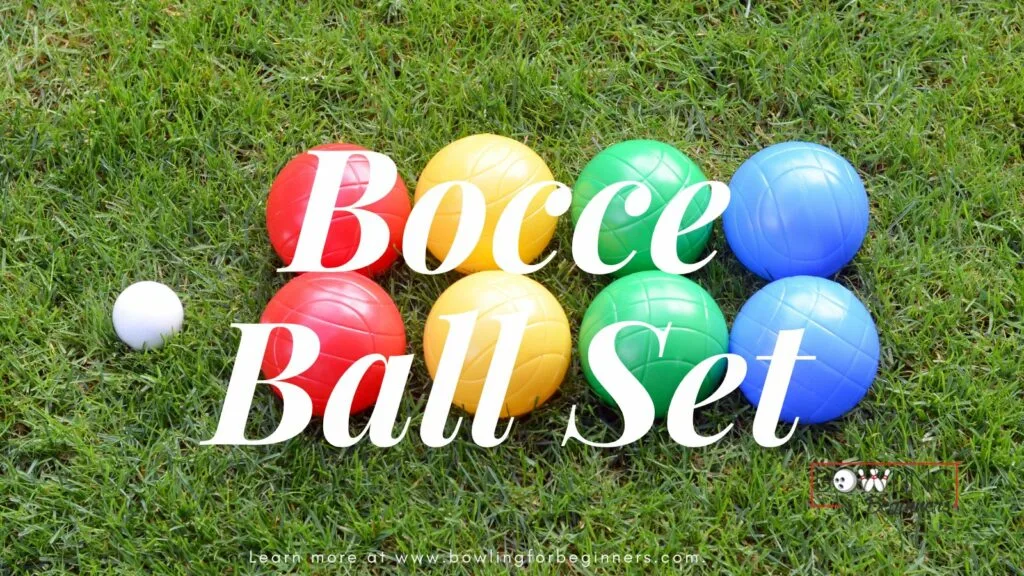 First, let's give you an overview of the basics of bocce ball for good foundation on the game. Bocce ball (pronounced baa-chee-baal), typically played on an outdoor bocce court, involves strategies of rolling big balls toward a smaller target. The target is also known as a pallino or jack.
The big balls are the Bocce balls and are a specialized type of ball used only for the sport of bocce. Bocce balls come in various sizes for all ages, from small to large, ranging from about 65mm to a little over 100mm. They are completely round with no irregularities, unlike the biased balls used for lawn bowling.
Bocce balls may be constructed from a wide variety of materials, from wood to plastic to metal and more. They also vary in weight. Lighter balls are more likely to deviate from their path after they're thrown, while heavier ones are more likely to stay their course.
All of these factors affect your bocce ball playing experience.
Note: Lawn bowling and bocce are different sports entirely. Read this article to learn how they compare. If you are looking for lawn bowling sets, this article will give you the information you're looking for.
What's in a Bocce Ball Set?
In a professional bocce ball set, you'll find the following:
Eight balls: Four in one color and the rest in another color.
Pallino ball: A small white or yellow ball that acts as the target.
Carrying bag: The bag will be used to carry all the components of the bocce ball set. This bag may or may not have a frame on the inside to keep all the equipment in place (or stationary) during transport or storage. It may also have cushioning and a special lining to protect the balls in extreme weather conditions.
The above items are what you'd normally get at a minimum. But if you pay a little more, you may get some of the below extras:
Measuring tape or string: This can come in handy if two balls are very close to the pallino and you find it difficult to determine which team gets the point.
Rule book: Some professional bocce ball sets come with official rules to help players play an authentic game by the book.
How Many Bocce Balls Are in a Complete Set?
A complete set of bocce balls includes 9 balls in total. You have 8 larger balls you'll roll toward your target, and then you'll have your pallino, or jack. It's the smaller ball in the set.
The eight larger balls are usually divided into two sets of four, each set having its own distinct color or pattern. So, there's no need to buy a bocce ball set for each team.
How Much Does a Bocce Ball Set Cost?
The cost of a bocce ball set depends a lot on the quality of the equipment, what's included in the set, and where you purchase it from. But what we usually see are three main pricing levels with these sets, and they include:
Under $30: These are considered your budget sets. They may or may not come with a carrying case, and the balls will usually be made of cheaper material. They also aren't guaranteed to be professional-grade. These sets are ideal for playing lawn games casually in your backyard with family, friends, or kids.
Between $30 and $70: Middle-of-the-road bocce ball sets are going to give you considerably more than you'd get with the most basic sets. These sets may come with professional-grade resin balls and some of the extras we mentioned earlier (carrying case, measuring tape).
$70 and up: When you get over the $70 mark, the quality of the sets skyrockets. You get weighted regulation-sized balls with a pallino and a high quality carrying bag to lug your deluxe equipment around in. The balls are usually made of all-weather material so you can play all throughout the year, and they're durable, so they last you for several years.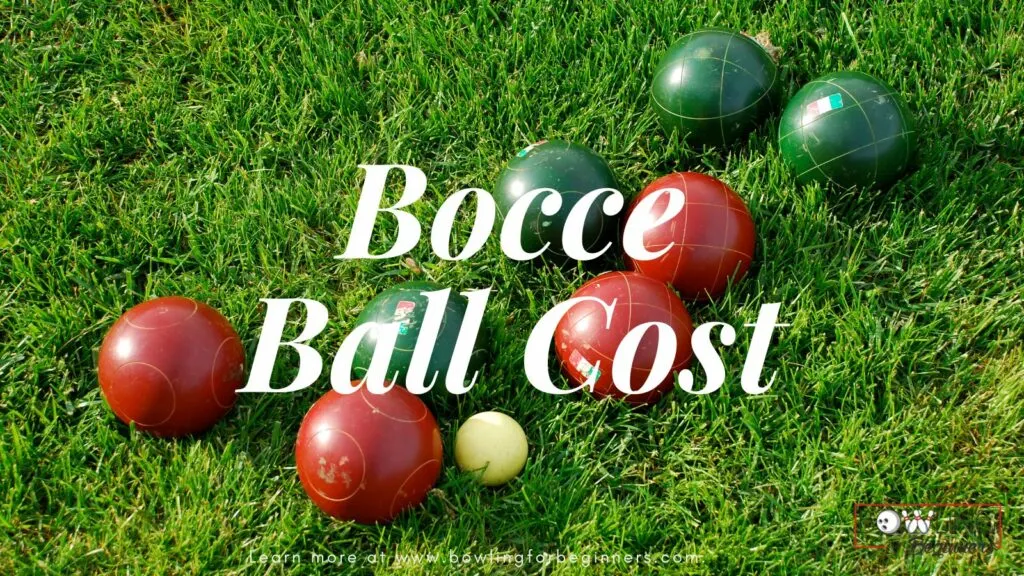 What Is the Difference in Bocce Ball Sizes?
The size of your bocce balls enormously impacts how your games ultimately go. Here are the sizes you'll see as you shop for your set:
107mm (4.21 inches)- This is the size of a regulation bocce ball. It's the size used for those who are playing in official matches or tournaments. The size is ideal for both men and women who want to play bocce like the pros. Approximately it is the size of a medium melon.
106mm (4.17 inches)- This size is allowed at regulation tournaments, specifically for women who want to use a slightly smaller ball. It's not used as often as the 107mm size. Approximately, it is the size of a smaller melon.
90mm (3.54 inches) to 100mm (3.94 inches)- Beginners and casual players often prefer bocce balls in this size range. They are neither small nor large – just right for the average man or woman. They may also be used for older children. Approximately the size ranges from medium to large apples.
Under 90mm (3.54 inches) – If you're looking for a bocce ball size perfect for the little ones, shoot for a set with balls under 90mm. These will easily fit in their hand and make the game more age-appropriate. Approximately, it is the size of a smaller apple.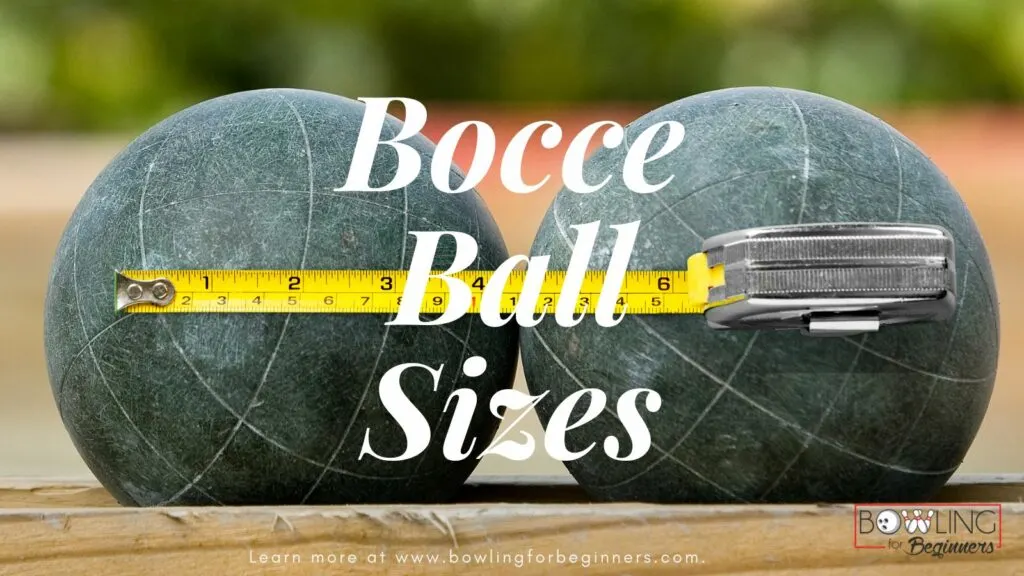 What Should I Look for When Buying a Bocce Ball Set?
When you're in the market for a bocce ball set, there are several key factors to take into account. That way, you can make sure you're getting the best bang for your buck and a set that suits your needs. Browse the handy list below for some guidance.
1. Material Quality
High-End: Opt for a set made from phenolic resin for durability and a professional feel.
Casual: Wooden or plastic sets can work if you're just looking for a budget-friendly, occasional game. But know that the set may not last as long and should be stored properly from the weather changes.
2. Ball Size and Weight
Regulation: For a serious game, go for the standard adult size of 4.21 inches (107 mm) in diameter and around 2.03 lbs (920 grams) in weight.
Casual or Kids: Smaller and lighter balls are available, usually ranging from 2.95 inches (75 mm) to 3.94 inches (100 mm) in diameter. Any balls that are not in regulation, are less than the standard 2.03lbs and can be as light as 9oz.
3. Number of Balls
Ensure the set includes eight large balls and one pallino for a complete, standard game.
4. Color and Markings
Pick a set with balls that have distinct colors and markings to easily differentiate between teams.
5. Surface Versatility
If you're playing on various surfaces (grass, beach sand, gravel), look for balls that have a versatile design suitable for multiple terrains.
6. Pallino Size and Visibility
The pallino should be a different color from the eight larger balls and typically range between 1.57 inches (40 mm) and 2.36 inches (60 mm) in size. Make sure it's easily visible.
7. Carrying Case
A quality carrying case or bag is a practical addition for storage and transport. If you know you'll be playing in various settings and climates, pay special attention to the quality of the bag.
8. Measuring Device
Some sets come with a measuring tape or string, which is useful for determining which ball is closest to the pallino in tight situations.
9. Warranty and Reviews
Look for sets that come with a warranty or guarantee, and always check customer reviews for their feedback and insights into durability and playability.
10. Price Range
Be aware that you often get what you pay for. An inexpensive set may not last long, while a pricier set could offer better materials and construction.
Though you should be able to find a quality bocce ball set online, it doesn't hurt to see them in person at a brick-and-mortar store. Just know that your options will be limited to the sets they currently have in stock.
How Long Does Bocce Ball Last?
The amount of time a bocce ball game may last depends on the type of game you're playing. If you're playing a casual game, you can set a time limit or a point limit. So, if you decide that the game ends after 30 minutes, that's how long the game will last.
Alternatively, if you want to set a point limit, – 16 is standard for bocce – the game will go on until a team reaches that point value.
For professional regulation bocce ball games, you can expect the game to last an hour. But there is a point value to reach within that timeframe – usually 16. If time is called and no one reaches 16 points, the teams will play one more frame and the one with the highest score at that point wins.
Related Articles
So, there you have it – everything you need to know about bocce ball sets. We hope you found all the information you were looking for, and we wish you the best as you explore bocce! Don't forget to explore other outdoor games for wholesome entertainment, like petanque and lawn bowling!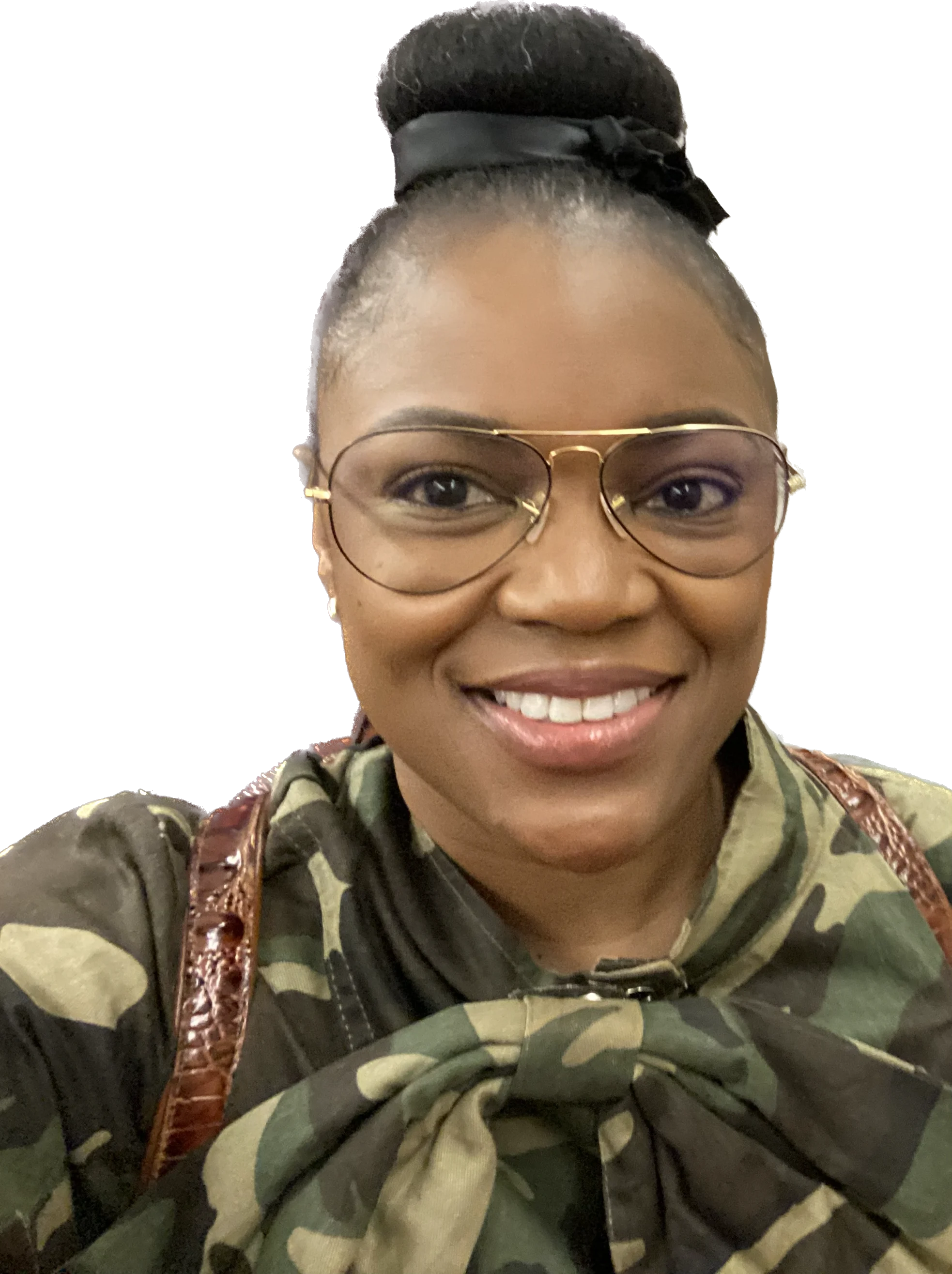 Kira Byrd, a Certified Fraud Examiner, holds a B.S. in Accounting from the University of Alabama at Birmingham. With a passion for bowling from her childhood, Kira has poured her expertise and personal experiences into creating and nurturing Bowling For Beginners. Kira's mission is to meet new bowlers where they are and guide them toward consistently achieving higher scores. With a focus on skill development and strategic techniques, she empowers readers to take control of their game and unlock their true potential.
Bowling For Beginners embodies strict editorial integrity, ensuring reliable and unbiased information. Kira's commitment to delivering valuable insights and practical strategies is reflected in every article. Here's an explanation of our editorial policy and how we get money.